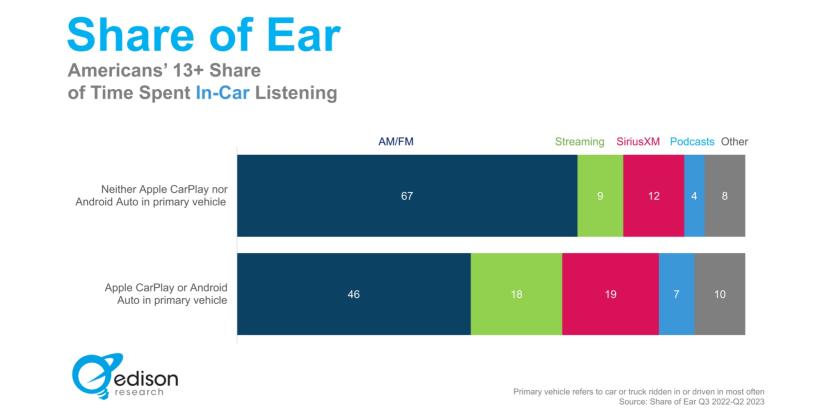 Better user interfaces in cars change radio listening
· 3.6 minutes to read
A fascinating bit of data from Edison Research: showing the effect of Apple CarPlay and Android Auto on car audio listening.
It seems that AM/FM is still the #1 audio source; but total listening goes down by a third. Everything else - music streaming, podcasts - doubles.
It's the effect of a decent user-experience, of course. Make it simpler to listen to other things, and people will. It's why things like Radioplayer - that aim to make a decent user-experience for all of radio - are so important.
As a case in point, I was in Adelaide over the weekend, and the hire car had Android Auto in it. I didn't listen to the radio once; just asking YouTube Music to play music from "My Mix".
How did that compare with the radio? We did some listening in a café - Power FM, I think it was - but on a Sunday morning it was just non-stop music, punctuated by one quite eager local news bulletin, and a number of commercials.
Non-stop music really isn't much of an alternative to "My Mix", which is also non-stop music.
Radio's selling-point - a shared experience and a human connection - is important here, you'd think.
---
In Australia, some interesting corporate manoeuvrings, as ARN launches a hostile takeover bid of its competitor, SCA.
The broadcast radio market is worth AUD $1.7bn (US $1.1bn, £880mn), and this would be the equivalent, I guess, of Bauer trying to take over Global (or Audacy taking over iHeart).
The radio ownership rules in Australia allow - for analogue radio - one company to own two radio stations in each broadcast area. Here's the Brisbane RA1, the licence area for Brisbane, and the Ipswich RA1, the one for Ipswich. Most of the city of Ipswich is in the Brisbane area, as you'll spot, so when ARN bought Grants a few years ago, the Ipswich station River 94.9 meant they had to sell a station in Brisbane.
If ARN is successful in taking over SCA, of course, they'll have four stations in many areas; so they plan to have two broadcast radio companies, run separately, in much the same way that Global and Communicorp co-exist.
However, that regulatory requirement isn't relevant for streaming, for DAB+, or for podcasting. Looking at the recent Australian Podcast Ranker, ARN+SCA represent 69% of all podcast downloads in Australia. That's quite the behemoth.
I don't understand whether the ACCC - the Australian competition and consumer commission - would have the same concerns as the UK's CMA; but it's certainly interesting times for the industry ahead.
---
In other news…
Want to supercharge your radio show? Here's a £1 week-long trial of Show Prep - from a world class radio consultant and the best show-prep writer in the UK. Great for UK stations, or for English-language stations everywhere, too. (ad)
Coming up…
I'm speaking at the following events…
Medientage München (Oct 25-26)
Audiodays Denmark (Oct 27)
Podcon MX, Mexico City (Nov 9)
Would be excellent to see you at one (or more!)
Supporters
Thank you to Broadcast Radio, Clyde Broadcast. Richard Hilton and James Masterton, Brun Audio Consulting, Soma FM and Media Realm's MetaRadio.
If you'd like to support my work in any way, you can BuyMeACoffee - become a member to give regularly or just give a one-off coffee, or five. Here's where to do that.
Please do follow me on Mastodon, too: I'm @james@bne.social there. I'm much more active there than anywhere else.
My professional website has more detail about who I am, and what I do, and whether I can help you further; and you can hear this newsletter being read to you on a podcast player near you - just search for "James Cridland - radio futurologist".