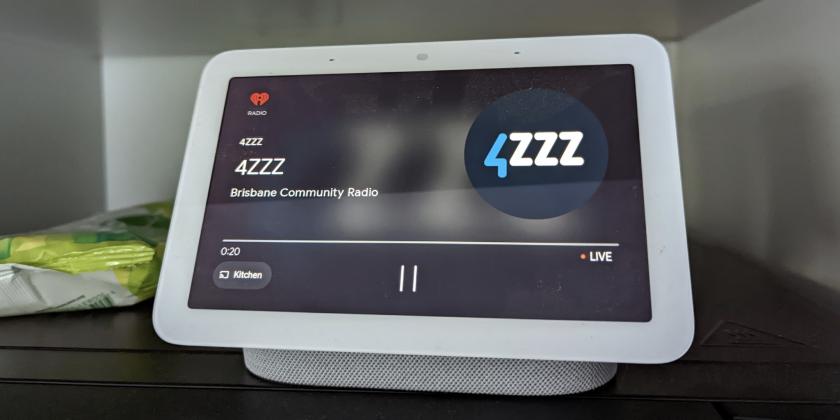 RAJAR, MIDAS, Local BBC Radio, and privacy
· 6.7 minutes to read
Above: calling itself "4 triple zed" on the air, the only way of getting this station to actually play was to ask for "4 zee zee zee". Last year I pointed this out to a few people in Sydney and Melbourne, and I'm delighted that you can now ask to "Listen to 4 triple zed", and your Google box will happily play it. Thank you, Jaime and Corey and others.
The UK's radio audience figures, RAJAR, came out for Q3. Adam Bowie has written a good, long blog taking the numbers apart and putting them in context.
Radio listening grew during the period (even though the last two weeks were in national morning after the Queen's death): hours/TSL were up 2.5% on the quarter, reach/cume up by 1.4%.
Commercial radio seems to be doing very well - posting an all-time record share of 50.9%. See my last newsletter where I look at how poorly BBC Sounds is faring, too. It might be a blip; but it's a worrying one.
What I find more interesting is RAJAR's MIDAS survey, which has also come out recently. This shows how people consume all kind of audio content. Compiled by 1,696 people in mid September (and therefore again potentially affected by the Queen's death), it's a good snapshot into how podcasting, online music services, and others are doing.
You should probably read MIDAS with a little caution - notably, the existence of "listen again and catch up radio", which is a peculiarly British thing (thanks to music licensing, you can listen to most shows on-demand, even music shows; and these are split out separately here probably thanks to music licensing). It's not, therefore, instantly comparable to something like Edison Research's Infinite Dial - my hunch, which the numbers support, suggests that the existence of "listen again" will take numbers away from podcasting, when in reality it's the same thing delivered in almost exactly the same way.
MIDAS shows an almost complete drop-off in people who listen to digital tracks (MP3s), and CDs/cassettes - both down by almost two-thirds since 2016. The number of people who listen to podcasts has more than doubled in the same time.
But MIDAS also measures total hours/TSL for each of these things, and it's interesting to see a tremendous growth in on-demand music services (Spotify, YouTube Music, etc), now responsible for 210m hours a week in the UK (slide 8). The number for live radio isn't on that slide, but I'll tell you: it's 1,022m hours.
It a great read, and I'm always grateful for the generosity of the UK radio industry for releasing it.
---
The Guardian reported cuts to BBC Local Radio were coming; and they were almost right, except it's called Local BBC Radio now, because of course it is. The full extent of the cuts were broken by BBC News, pleasingly still calling it BBC Local Radio. 48 jobs will go.
BBC Loc… "Local BBC Radio" is an England-only thing, where there are 39 local radio stations. They've, until now, mostly been local throughout daytime; but that's to stop. But only a bit.
Now, all local radio stations will be "local" until 2pm, then some stations will share programming with neighbouring stations. There's more networking after 6pm; and they go national after 10pm.
Given my past distaste of "whatever the BBC is doing to their local radio services this week", you're probably thinking I'm going to kick the BBC about these moves, too. It seems everyone else is, on Elon Musk's Twitter and on Mark Zuckerberg's Facebook.
But I'm afraid I see these as (mostly) sensible moves. To have something going out in Leeds, Sheffield and York between 2pm-6pm, instead of three separate shows? I think there's nothing wrong with that.
Indeed, listeners to local radio in many other countries will hear much the same type of thing already. ABC Local Radio in Australia does similar, quite successfully. So, I think, does CBC Radio 1 (though the CBC has no national services, so it's not quite the same).
People, I think, care more about real and relevant radio than they care about where it's being broadcast from. Great radio sounds great: and if it happens to be talking about Yorkshire rather than My Little Bit Of Yorkshire, that seems fine. I'd much rather that than, as has also been suggested, Radio 5 Live with local news optouts.
What's a little odd is the groupings. As one example… Leeds/Sheffield/York will share 2pm-6pm, and Humberside/Lincolnshire will also share their programming. Then after 6pm, Leeds/Sheffield/York/Humberside join together, while Lincolnshire joins with Derby, Nottingham and Leicester.
The person in charge of BBC Radio Humberside will also be in charge of BBC Radio York - and in the region of "Yorkshire and Lincolnshire". So - who's in charge of BBC Radio Lincolnshire, which will share programming between 2pm-6pm, but not between 6pm-10pm? Someone else. Oh, and BBC Radio Lincolnshire isn't in the region of "Yorkshire and Lincolnshire", but actually in the region of "Midlands". It's all a bit messy.
It's, of course, a shame that 48 people will be impacted. But the majority of radio listening happens before 2pm; and listeners there won't notice a thing: it'll be just as local as it was before. So I don't think it's the end of the world, as many people do. But perhaps, after decades of BBC local radio getting the rough end of the stick, that's what management wants us to think.
---
Over on Podnews, I wrote about Rova, the app from NZ broadcaster MediaWorks, which was spraying private location information to any podcast publisher that was on the service, clearly against NZ privacy laws. I got details of what could be a MediaWorks employee in Palmerston North, and another New Zealander in Christchurch. I worked on this article for three days, believing this to be a sensational privacy story that would be picked up by the trades. As ever, I was wrong. But, it begs the question - if you're collecting all that data, be really careful who you share it with. A random podcast publisher in another country? Best not.
---
Supporters
Thank you to Richard Hilton, James Masterton, and Brun Audio Consulting for your ongoing support of this newsletter. I'm very grateful to you.
If you'd like to support my work in any way, you can BuyMeACoffee - become a member to give regularly or just give a one-off coffee, or five. Here's where to do that.
My professional website has more detail about who I am, and what I do, and whether I can help you further.