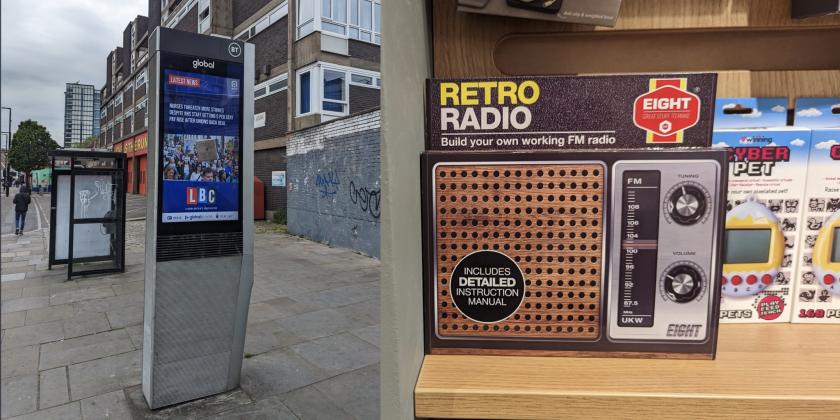 AM given reprieve; Long Wave to go away; radio on TV
· 6 minutes to read
Above: No missing that Global, owner of LBC, also owns a large number of ad sites across London. Very impressive cross-promotion. I could have done without FM radio being described as "retro" in a Waterstones bookshop, though!
Podnews Live
in MediaCity UK, Salford, is the first of a set of local day-long conferences that focus on sharing knowledge and networking in the business of podcasting. With speakers from Crowd Network, the BBC, MIC media and many more, Podnews Live is small enough to network, and varied enough to make sure that anyone can get the most out of the event.
Book your tickets for June 13 now
AM to stay in cars in the US
Surprisingly, but possibly inevitably, Ford has decided that, after all, it will put AM radio in its new vehicles. It might have been radio speaking with one voice; it might have been the threatened legislation, even though many trade groups agreed with Ford and opposed the bill. Ars Technica points out that "for a radio alert to actually work, it has to be turned on and tuned to the right wavelength", which makes sense (though radio sets use frequencies not wavelengths these days), and also "97% of Americans have a cellphone, which is already designed to receive Wireless Emergency Alerts, and these alerts can be received even if the cellular network is unable to send calls or other data."
This could be good news for those countries that still rely on AM radio - the US and Canada, at least.
The UK is continuing to turn AM off. The BBC says that 5 Live will be off AM by Dec 2027; they've been slowly turning off BBC Local Radio's AM transmitters too. (No news on the BBC Radio 4 MW relays, but you can probably bet that they're not going to exist for long). Commercial radio is, too, turning off AM output slowly, with talkSPORT announcing a reduction in coverage and Absolute Radio having vacated it entirely. (Absolute Radio has just posted its highest ever total brand reach at 5.3m, so it hasn't hurt it).
However, Australia typically takes its in-car equipment from that in the UK market (we drive on the left, we have DAB+, we don't have HD Radio nor SiriusXM), so if I were an AM broadcaster in Australia, I'd not breathe too easily.
Long wave to go away
In the UK, BBC Radio 4 is, finally, coming off LW: at least, separate scheduling for LW is to cease in March 2024, so that's an end to The Daily Service and the longer (and superior) version of Yesterday In Parliament there (they shift to DAB station Radio 4 Extra). It'll be off completely by Dec 2027.
The BBC says, confusingly, that the changes are "in anticipation of the closure of the LW platform, owned and operated by a third party, which is coming to the end of its life as a technology." This seems a little disingenuous - LW isn't "owned and operated by a third party", though BBC Radio 4's LW transmitters are owned and operated by Arqiva, just like their FM and DAB transmission network.
RTÉ Radio 1 came off 252 kHz LW in the middle of April. Here's the audio of the announcement loop. In Denmark, DR Langbølge will cease at the end of this year, and in Iceland, the RÚV will cease next year. That'll leave just stations from Poland, Mongolia, Romania and Morocco on the waveband (and good luck getting the Mongolian output even now, since they're on non-standard frequencies).
It looks as if LW is rapidly heading for total closure.
Radio on the TV
I spent some time in the UK a few weeks ago (and will do so again shortly, in Manchester this time). While I can (and do) watch some of the domestic output of the BBC here in Australia, what surprised me watching it in the UK (and in a UK timezone) was the amount of radio shows on the BBC News television channel.
The mornings have a simulcast of Nicky Campbell's phone-in from 5 Live. It's capably done, but Campbell sits in a poorly-lit studio, with a big microphone partly obscuring his face, big chunky headphones on, and a computer monitor also in view. His guest was on a video link, rather than just audio, but otherwise, no thought appears to have been put into dressing the studio for television; no affordance seems to have been made for the cameras.
The weekends are full of 30-minute fillers from BBC Radio 4. Unlike Nicky Campbell's phone-in, which has some nifty graphics and production, these filler shows are put together with all the production values of a Zoom call. For half an hour, I watched Nick Robinson interview someone in a studio. Roll-up posters had been carefully placed behind each of them; but the vision entirely consisted of two locked-off cameras, switching between each other. The microphone, once more, obscured their faces; both were wearing large headphones.
Another show, with the excellent Ros Atkins interviewing Jeremy Bowen, was recorded in a different radio studio. Headphones were worn, once more, but no attempt had been made to dress the studio, with a 1980s door behind one of the two locked-off cameras. Both appeared to, at least, ensure that their faces were visible.
Compare with LBC, who use desk-mounted microphones and a dressed studio (albeit horribly ugly headphones); or Talk TV's radio output, where presenters wear lapel microphones and earpieces; or even, 7 years ago, Paul Henry on New Zealand TV and radio. It's inexplicable, to me, that the BBC hasn't done more of a good job with their radio-to-TV output.
Elsewhere
Want to supercharge your radio show? Here's a £1 week-long trial of Show Prep - from a world class radio consultant and the best show-prep writer in the UK. Great for UK stations, or for English-language stations everywhere, too. (ad)
Supporters
Thank you to Clyde Broadcast, who become my latest supporter. Clyde Broadcast are experts in the design, specification and installation of radio studios and radio stations, delivering full turnkey solutions worldwide: and I'm grateful to them for their support, as well as Richard Hilton and James Masterton, Brun Audio Consulting, Soma FM and Media Realm's radio websites.
If you'd like to support my work in any way, you can BuyMeACoffee - become a member to give regularly (this now works) or just give a one-off coffee, or five. Here's where to do that.
I'm looking forward next week to be at Radiodays North America in Toronto, and then in Manchester for Podnews Live. Here are my contact details if you're there, too.
Please do follow me on Mastodon, too: I'm @james@crid.land there.
My professional website has more detail about who I am, and what I do, and whether I can help you further.