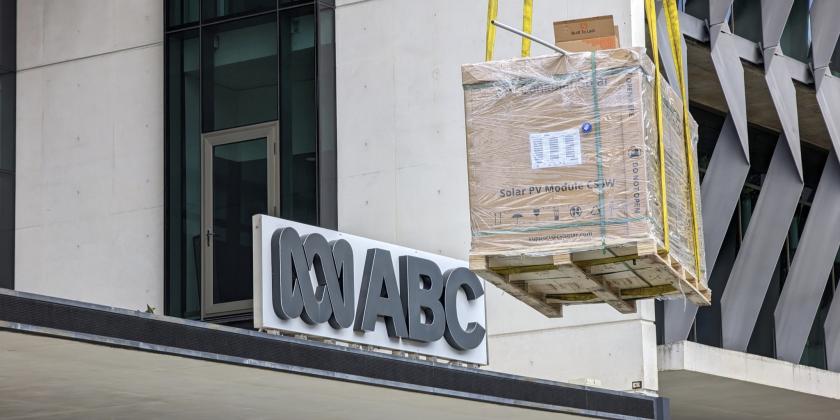 Can your presenters publish to your website?
· 4.4 minutes to read
Above: I was on ABC Radio Brisbane and Queensland last week, talking about AM coming out of cars in the US. My entry to the studios was temporarily blocked as they hauled a lot of solar panels up to the roof.
A great tweet from Amanda White highlighting just how hard it is to get anything done at the BBC. I can corroborate much that's in this tweet. Choice quote: "I can take control of a radio station and open the mic to hundreds of thousands of people; I can broadcast live on television; but I am not trusted to post anything on the BBC website."
Although it's twenty-five years ago now, when I worked at Virgin Radio we gave our presenters the tools, if they wanted them, to be able to post directly onto the Virgin Radio website. Why wouldn't we? And, I hate to mention it to Amanda, but as a BBC senior manager in the late 2000s, I was able to publish directly to the BBC website (without any editorial oversight, which I found very strange).
BBC Local Radio journalists went on strike last week, protesting at the loss of local programming on these stations. Full marks to BBC Radio Leeds's Gayle Lofthouse, who ended her live show this way, before giving over to the strike-breakers.
---
AM's enforced switchoff in the car in the US is getting people quite worked-up. Popular Science magazine uses the "but in times of emergency" defence; yet no data is put forward as to how many AM stations actually bother to broadcast any emergency information. Particularly on weekends, most AM stations in the US are an empty studio rebroadcasting something from satellite or something from computer, and wholly unable to . Unless, you know different, of course: but I don't think, in the US, this defence stacks up. I'd love to see some data to the contrary. The evidence isn't good.
Australia's new radio audience figures came out. ABC Radio Melbourne (on AM) posted its worst-ever figures. 2GB (on AM) slipped from #1 in Sydney. 4BC (on AM), 6PR (on AM), and FIVEaa (on AM) also post large drops in audience. ABC Local Radio in other cap cities (on AM) showed a small rise in audience after, for most, their worst figures. ABC RN (on AM) is currently near its lowest figures, too.
Walking to your local electronics store and trying to buy an AM radio would be a good thing to try, too. They're beginning to be quite rare, too.
AM is increasingly unfit for purpose. Broadcasters relying on AM for their flagship services need to have an urgent plan to fix it.
---
Keri Jones posts a short video explaining how he is using ChatGPT for his radio service. I've not yet taken the plunge.

The "world's longest-serving female DJ" is profiled in The Guardian - she's Mary McCoy, she's 85, and she's on KVST-FM, a station called K-Star Country 99.7, in Huntsville TX.

"AM/FM Radio Ratings Overtake TV Among Persons 18-49 For The First Time In Media History" (in the US). A good piece by Pierre Bouvard. I'd gently point out that, of course, this all depends on definitions (what's radio? what's TV?), and the uncharitable might point out that this is a feature of radio's decline of listening-time being slightly slower than that of TV. Even so, it's not going to stop me, or anyone else, using this new stat with abandon.

The history of radio drama in India is quite the read.

I put a few more old blog posts online from 2007. And now, a note from your friend is all about Radio Scilly's pre-launch blog; John C Dvorak is wrong about internet radio highlights the mistake that many commentators make when assuming that "the internet" is free to broadcast on (bandwidth costs serious money); and Radio in Norway - more futuristic than you think was a look back at how research worked in the country.

Paul Easton's funeral will be at Chilterns Crematorium, Amersham, Hampden Chapel on Monday 27th March at 11am. Followed by refreshments at 12pm at The Kings Arms Hotel, 30 High Street, Old Amersham, Bucks HP7 0DJ. I hope the wine list is good, for his sake.
Want to supercharge your radio show? Here's a £1 week-long trial of Show Prep - from a world class radio consultant and the best show-prep writer in the UK. Great for UK stations, or for English-language stations everywhere, too. (ad)
Supporters
Thank you to Richard Hilton, James Masterton, and Brun Audio Consulting for your ongoing support of this newsletter. I'm very grateful to you.
If you'd like to support my work in any way, you can BuyMeACoffee - become a member to give regularly or just give a one-off coffee, or five. Here's where to do that.
I'm at Radiodays Europe in Prague Mar 25-30; the NAB Show in mid-April; Spotify's event in Berlin in mid-April too; the New Zealand Podcast Summit in mid May; the Podcast Show 2023 in London at the end of May; and Radiodays North America in early June. Here are my contact details if you're there, too.
I'm on Mastodon as @james@bne.social (or just search for my regular james@crid.land email address).
My professional website has more detail about who I am, and what I do, and whether I can help you further.