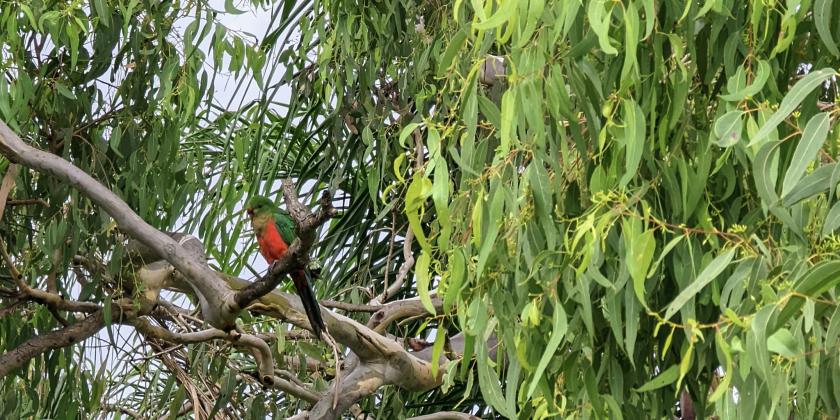 Is no news good news? And: funding the BBC
· 4.5 minutes to read
I'm mostly dealing without a home office at the moment as the painters and decorators are in. We're having a wet summer in Brisbane, but even so, I still sometimes get to see visitors in the trees, like this chirpy King Parrot.
Liza Tarbuck wants to get rid of the news in the middle of her BBC Radio 2 show. This got Matt Deegan thinking about the news bulletins in radio.
I've goaded Richard Horsman enough, I hope, into reheating his blog to make a response.
Radio 2's news bulletins have always seemed to me like the land time forgot: they sound identical to the news bulletins I remember when, at the age of 6, I was driven to school listening to Terry Wogan. The bulletins seem overly wordy and formal - "here's our Political Correspondent, Ian Watson" - and you can see that they may not help maintain a feeling of energy and positivity on-air.
I'd also have a question about whether an hourly news bulletin are really required at 7pm on a Saturday night; but I went to have a listen to Feb 22's bulletin, which was:
0:03 Blackmailing MPs
0:58 Man charged with double murder
1:18 Anti-vaccination protests
1:58 New COVID cases across the UK
2:10 Everton v Aston Villa report
2:41 UK skier wins gold medal
2:55 Weather
Now, I'm not a radio journalist, but goodness, these stories are long. 55 seconds on the top story of blackmail; 31 seconds on a sports-ball game (which if you cared about you'd be listening elsewhere anyway); and nothing particularly positive apart from the sliding-sport gold medal. Apparently it's the first gold medal that a British sliding-person has ever won in that competition. Go sliding!
(Also, nice to hear, explicitly, that the man charged with double murder was a foreigner. He was from Romania - the only fact about the person that we learnt. And we wonder why Brexit was a thing.)
At The Pulse, my programme director Steve Martin used to rabbit on about "the world of The Pulse" to the news team: urging them to remember who's listening and what their shared interests are. One of them - they all listened to the same radio station.
I gather Clive Dickens at Absolute Radio also tried to shape the news bulletins a little, asking for news that accentuated positive elements of stories. Not sure how popular that was with the journalists. But, I think that's quite possible; when I ran a hyper-local news website for a little while in the mid 2010s, I learnt that "historic pub to close" might be a bigger story for clicks, but "award-winning Turkish restaurant to move into the Coach and Horses" was a little more positive.
In 2018, David Spencer spoke about radio news at Next Radio. News consumption has changed, he said, but the style of radio news bulletins haven't.
There's probably something in that.
---
Want to supercharge your radio show? Here's a £1 week-long trial of Show Prep - from a world class radio consultant and the best show-prep writer in the UK. Great for UK stations, or for English-language stations everywhere, too. (ad)
Supporters
Well, it turns out that if you have a good rant, like I did last week about stupid Nadine Dorries, then that gets lots of people buying you coffee.
Jon Curnow said that my "stupid content" had him laughing all afternoon; Paul Easton said that the newsletter was proof that I'm not stupid; a BBC employee who I'll not name thanked me for sharing the Public Alliance funding report; and Gavin Watson - I think this Gavin Watson - also bought me a coffee or five. Thank you to everyone; and to those who replied to my rant last week saying how much they enjoyed it.
Thank you to Richard Hilton, James Masterton, and Brun Audio Consulting for your ongoing support of this newsletter. I'm very grateful to you.
If you'd like to support my work in any way, you can BuyMeACoffee - become a member to give regularly or just give a one-off coffee, or five. Here's where to do that.
My professional website has more detail about who I am, and what I do, and whether I can help you further.
Oh, and I'm delighted to be speaking again: I'll be at Podcast Movement Evolutions in Los Angeles in March; Radiodays Europe in Malmö, Sweden in May, The Podcast Show in London in May, and Canadian Music Week in June. More details soon, but I'm very much looking forward to getting back on the road.