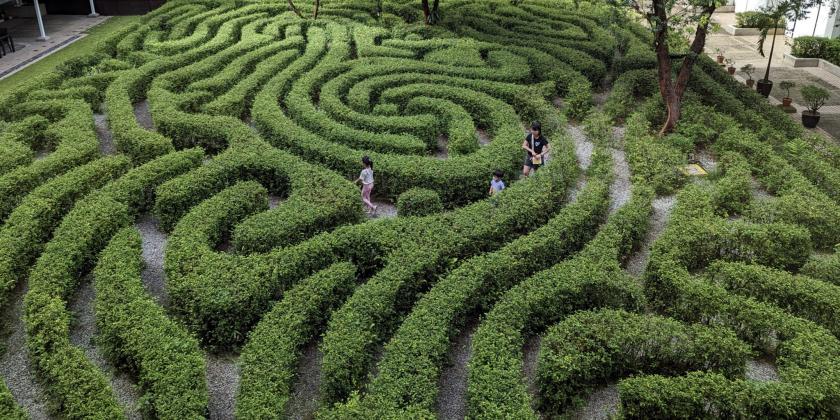 Radio's multiplatform radio figures from Australasia
· 4.2 minutes to read
Amazing. A maze garden in the KL hotel we were staying at.
---
It's a complicated feeling, as a British citizen and living elsewhere in the Commonwealth.
Keep calm and carry on, said the famous poster; and that's what I shall do in this newsletter.
---
A good week at Radiodays Asia, in Kuala Lumpur. It's a good event, and this time around it had an afternoon of podcasting alongside the usual radio stuff.
I often perk up when I see numbers being shared - and the event shared many. For example, June Pang from radio measurement company GfK shared overall radio consumption from Malaysia (or, to be strictly accurate, Peninsular Malaysia).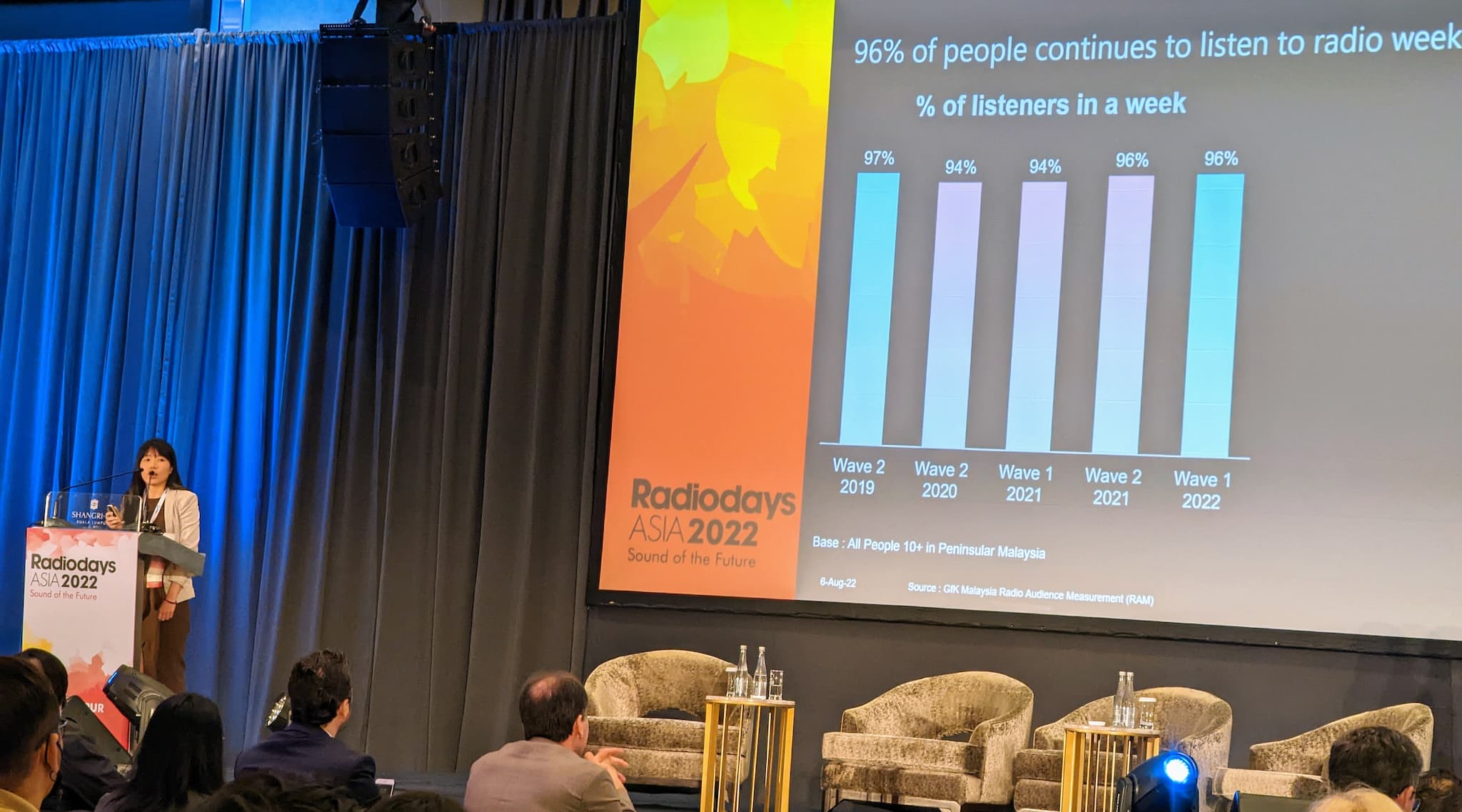 Malaysia's radio audience is high: 96% of the population listen every week. In the graphs June showed, the red bars are "during the pandemic"; we're not really completely out of the pandemic, of course, but radio consumption appears to be almost as high as it was.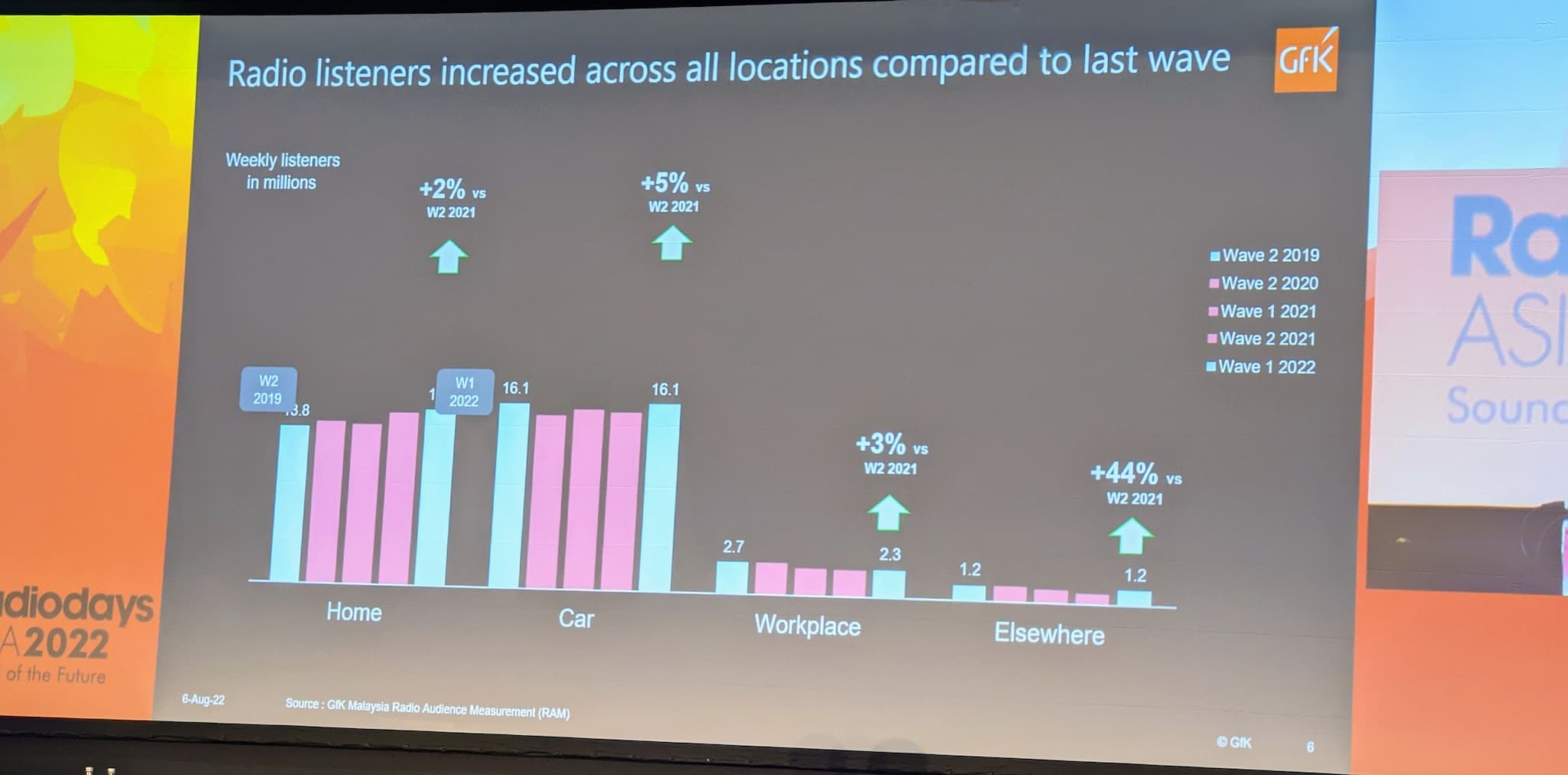 You can, though, see the effect of the pandemic in the location data, which dipped for in-car listening.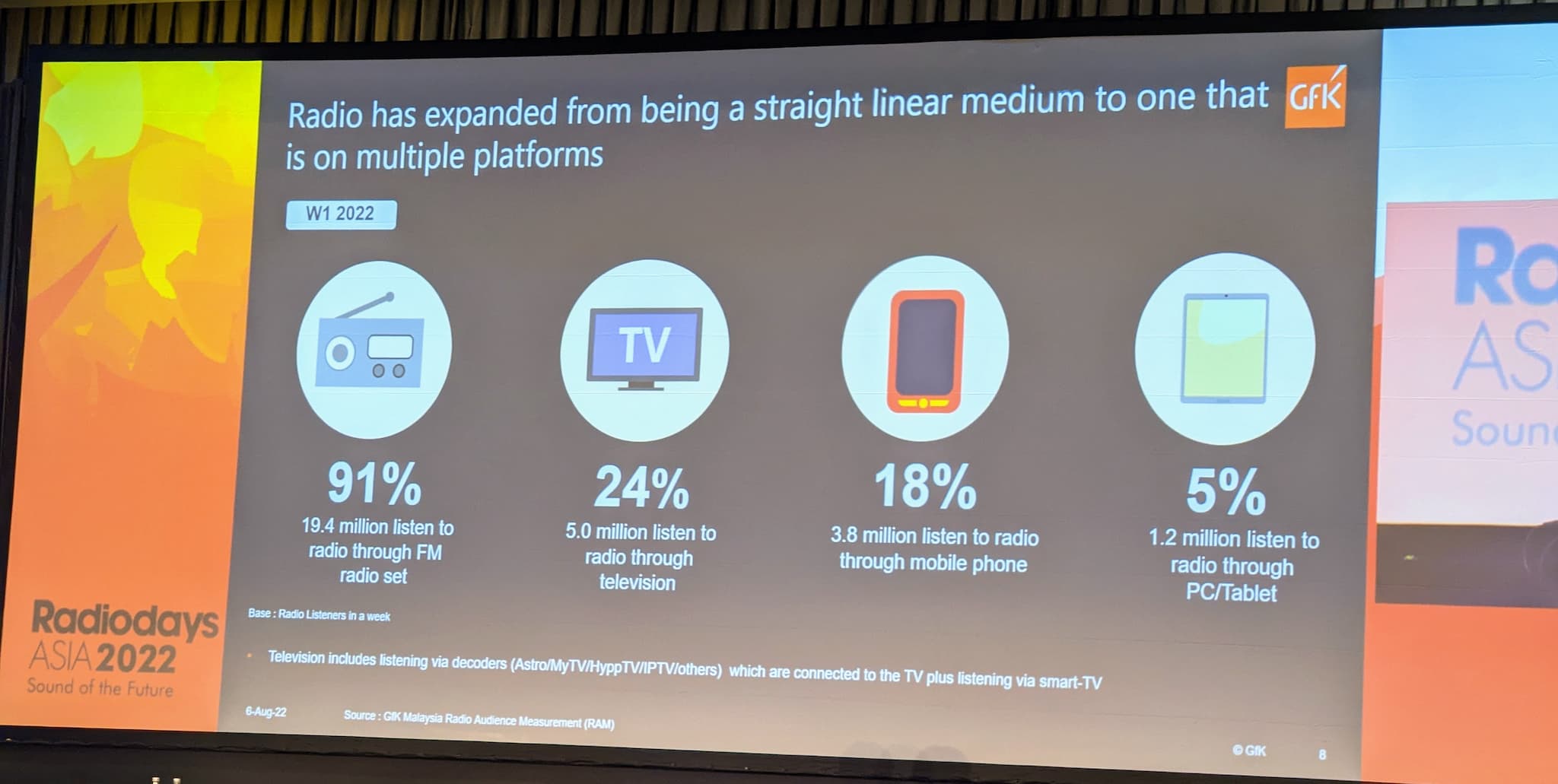 No such thing as DAB+ in Malaysia, but an astonishing 24% listen through their TV. I'm told the majority of this is via Astro: the company owns and operates a number of radio stations as well as their own satellite TV platform (and if you're not an Astro station, you're not there); but the number also includes listening via other services. Last time I was in Malaysia there were a number of radio stations who were also rebroadcast on the TV at breakfast time, so it may also include that, too.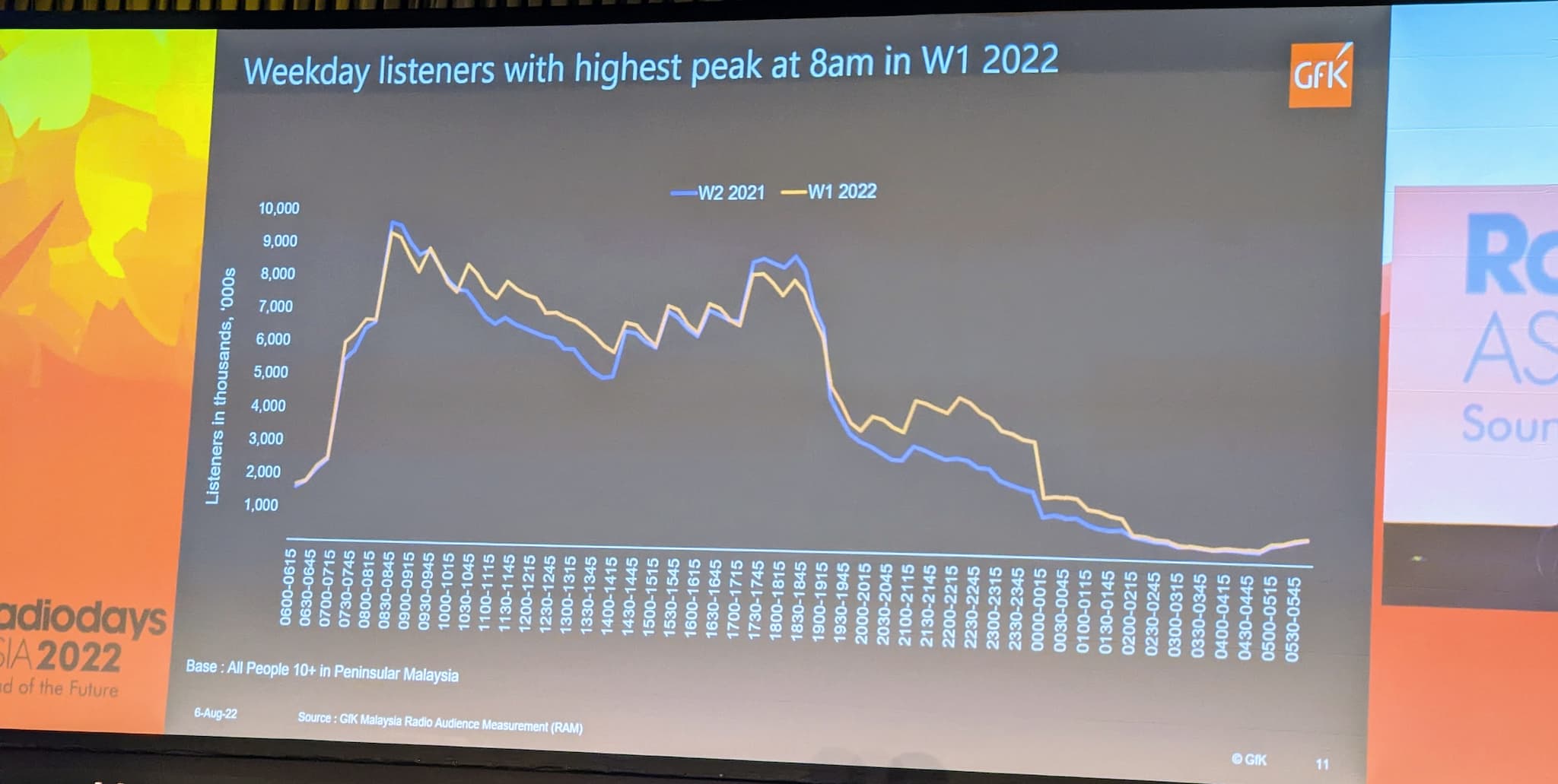 And I felt this was interesting, too. Blue is last year, orange is this year: there's very clearly more listening throughout the day now, but less listening at the breakfast and PM drive peaks. (By the way - I'm fascinated to see the zigzag patterns above: I can only suppose it's an artifact of the sampling method used.)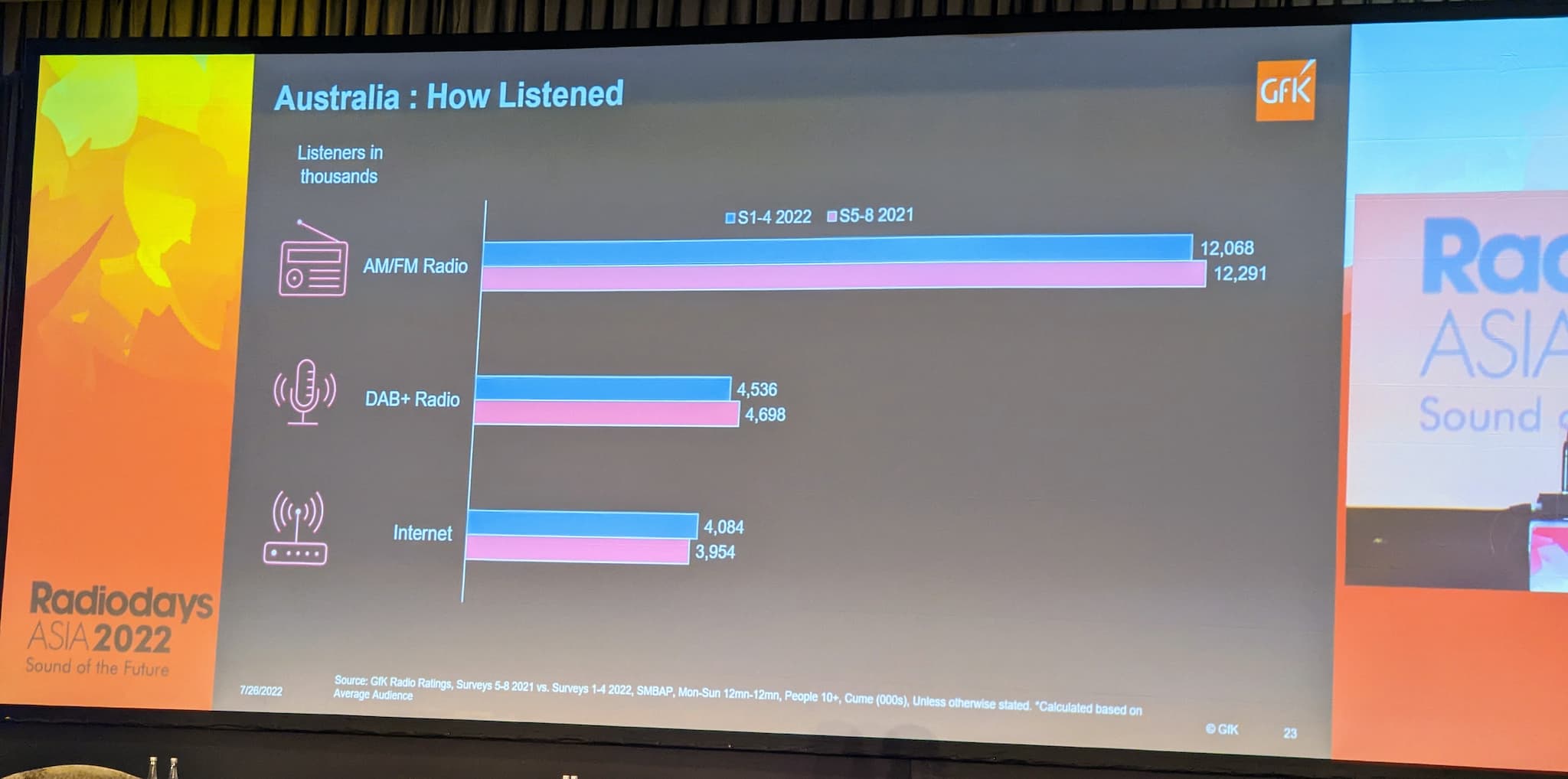 Platform figures in Australia (and, caution, these are total reach not total time spent listening) show DAB+ being still higher than the internet: but internet's quite close in terms of reach.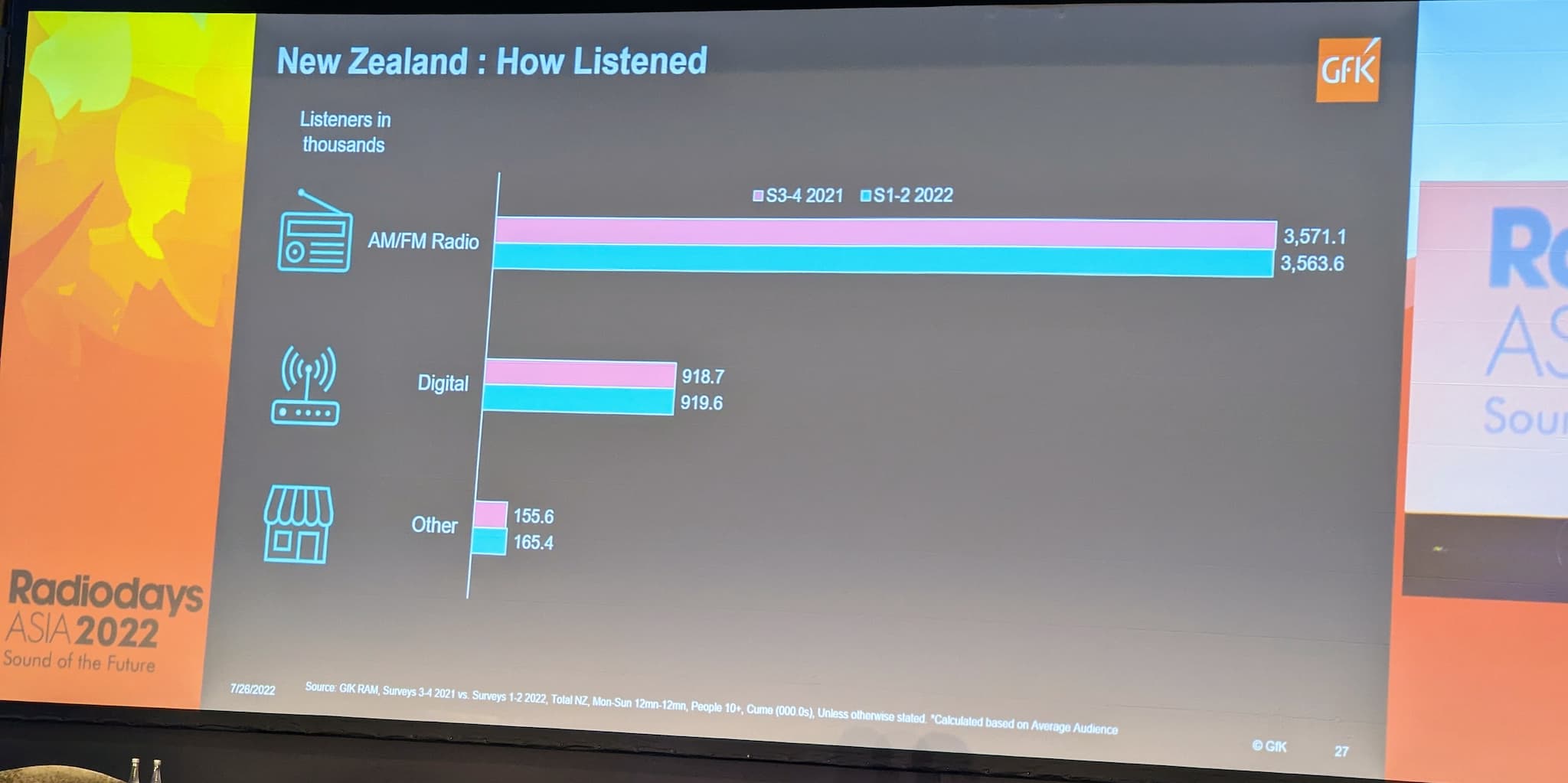 And platform figures in New Zealand. "Digital" in this case means online or via the TV in some form; there's no DAB+ in New Zealand.
All fascinating figures, and shows that even in non-DAB countries, radio is multi-platform.
---
A thing you should be at: Podcast Day 24. It's on 4 October, and there are events in London, New York and Sydney (and I'm moderating the one in Sydney). You get to watch the rest on-demand, too. Use P24partnerZ1 for a decent discount.
---
Talking about podcasts - also speaking in KL was the BBC's Global News Podcast, one of the largest podcasts in Asia. Very unsually, the BBC shared daily podcast download numbers for it, the show's audience profile (I bet it's lower than the BBC World Service, but I don't know), and a comparison to other podcasts from World Service English. The download figures, particularly, were fascinating to see: they peaked at 7m per episode during the start of the Ukranian war.
---
Want to supercharge your radio show? Here's a £1 week-long trial of Show Prep - from a world class radio consultant and the best show-prep writer in the UK. Great for UK stations, or for English-language stations everywhere, too. (ad)
Supporters
Thank you to Richard Hilton, James Masterton, and Brun Audio Consulting for your ongoing support of this newsletter. I'm very grateful to you.
If you'd like to support my work in any way, you can BuyMeACoffee - become a member to give regularly or just give a one-off coffee, or five. Here's where to do that.
My professional website has more detail about who I am, and what I do, and whether I can help you further.