More talk, less music
Above - my studio for my weekly podcast, Podland, a few weeks ago. With a background of tweeting birds, the episode sounded not bad for something recorded on a bench - I was forced out there, because some people were smashing holes in walls in my house. This one featured radio expert Adam Bowie, too.
Listening to speech/talk vs music is something I've been really interested in recently.
Last year, I noted the difference in speech radio vs music radio during the pandemic. Lock people in their homes, and they don't listen to more music radio, it turns out: they want to listen to human beings.
The only piece of research I'm aware of about spoken word audio - NPR's Spoken Word Audio Report, compiled by Edison Research, now has seven years of data, and there's a clear trend - younger people are listening to lots of spoken word.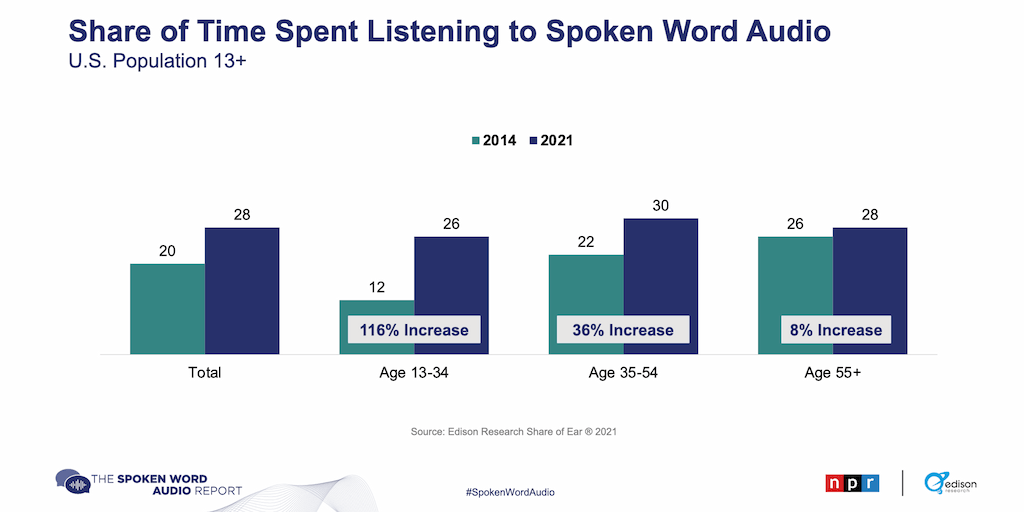 There's lots of data in the full study, which you can download free: but it should give some pause for thought to radio programmers.
If we focus on music as radio's thing - "#1 for dance and RnB" - or even "Ten great songs in a row" - I'd doubt whether this is a strong enough postioner to get audiences: especially when music is being listened-to less (as Tom Webster makes clear in his own writeup). Spotify, YouTube Music, Deezer et al is rather good at delivering music anyway.
Radio's unique selling proposition - the thing radio does that nobody else does - is the human being. Not the music - we can get that everywhere. We'll survive by as an industry by broadcasting peoples' favourite songs for a while longer, but that's a me-too game these days. Spoken word should be where we excel, even if it's great spoken word between two songs. This should be a real opportunity for radio; but it does look as if we may be squandering it.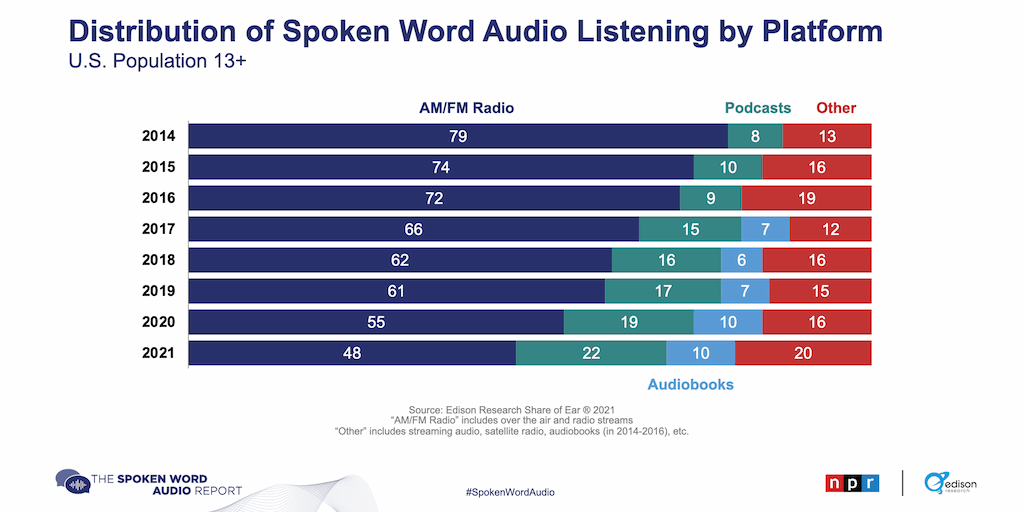 ---
In Australia, Matt Doran, an apparently big-name presenter for Channel 7 who I've never heard of, flew to London to interview Adele about her new album. The interview was part of a package worth $1m of exclusives with the singer - but in spite of that, Doran hadn't bothered listening to album even once, and told Adele so, after doing a full interview without asking one question about the album. Sony has denied Channel 7 the rights to air it. He was suspended for two weeks.
This is perplexing to me for a number of reasons.
Obviously - it's a 24 hour flight to London, so why hadn't Doran bothered to listen, at least once, to the album he was interviewing her about? That would have been the smartest thing to have done, you'd have thought. Preparation, and all that. I admire those interviewers who fully read a new author's book, as one example. That's a bit harder than playing an album.
But second - why did Channel 7 spend more than $1m in rights, and the flights/accommodation for at least three people, to go and interview a saleswoman about her new product? Would they do the same for a new phone, or a washing machine?
And third - isn't it a bit sinister that Sony has decided that they can't air any of the interview/advertisement because they don't feel that it promoted their product in the right way?
More questions here than "is Doran a nitwit", which he undoubtedly is. Not least for posting this on Twitter - anyone who uses the phrase "the boys" in an industry which still suffers from poor gender balance…
---
Want to supercharge your radio show? Here's a £1 week-long trial of Show Prep - from a world class radio consultant and the best show-prep writer in the UK. Great for UK stations, or for English-language stations everywhere, too. (ad)
Supporters
Thank you to David Webb who kindly bought me a coffee last week. David worked for the ABC for 53 years, LinkedIn tells me (goodness!) - and is now involved with the faith-based 1WAY FM in Canberra.
Thank you to Richard Hilton, and Brun Audio Consulting for your ongoing support of this newsletter. I'm very grateful to you.
If you'd like to support my work in any way, you can BuyMeACoffee - become a member to give regularly or just give a one-off coffee, or five. Here's where to do that.
My professional website has more detail about who I am, and what I do, and whether I can help you further.