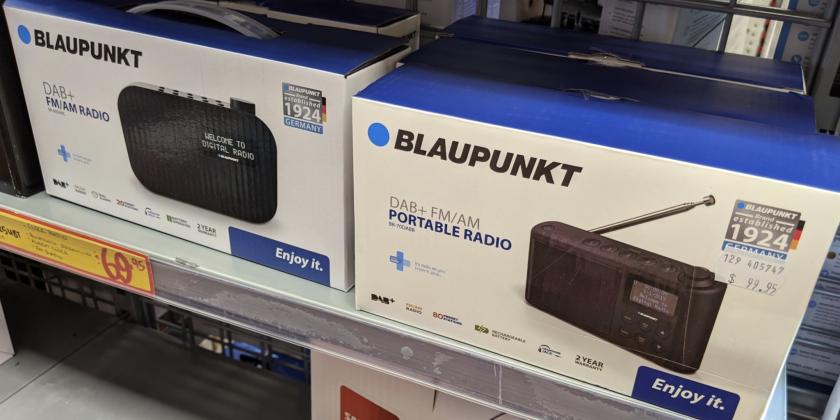 What the world's first podcaster would do with radio
· 5.5 minutes to read
Above: DAB+, FM… and AM. Unusual device. As seen in JB-Hifi in Australia in October 2020.
It was podcasting's 20th birthday over the weekend. For the Podcast Business Journal, I interviewed Christopher Lydon, the world's first podcaster, and our conversation got onto radio. Here's a clip of that interview…
JC: Has podcasting changed the way you thought it would, 20 years on?
CL: It's bigger. It is more commercial. It's not monopolized - you cannot monopolize the human voice. And it's still growing. Media is a very fluid world, but I think if the Martian landed and said "take me to your real voices" to get the pulse of this nation, I'd say: "try the podcasts".
JC: Arguably that's what radio was for. You have a tremendous radio background as well - where do you think radio is going?
CL: That's a very good question - and a dark question. I think podcasting is a terrible burden on radio, public broadcasting and otherwise.
I note that Vermont Public Radio has dropped the radio. It's now Vermont Public. WGBH dropped the W as if to say we're not a broadcast station anymore, we're some sort of other service. I think they're selling the peculiar brilliance of radio short.
It's cheap. Anybody can listen on a very cheap instrument, whether you're out farming or doing the dishes. It carries the human voice. I think radio has stopped believing in the higher calling of radio itself, and I think it's a damn shame.
JC: If you were in charge of a radio station now, what would you be doing with that?
CL: I'd be doing a whole lot of things. I'd be doing a lot of podcasting. I'd ask Erica Heilman to teach the world how to listen, but also how to listen to regular people. Our podcast is public people, people who've written books or maybe won a Nobel Prize or hold a professorial chair somewhere, and they're advocating something. I would do what Erica does so brilliantly, which is just get the voice of listeners. Jay Allison did great work on this from the beginning of listener IDs. Let people talk until the dime drops, or they cough up the secret.
JC: So more of other people's voices on the air, rather than just the silky voiced host?
CL: Absolutely. Absolutely! I've got an untrained voice. I sound like my brothers. We talked the way our parents taught us to talk. There's nothing trained about my voice, so we're going to keep it that way.
The full interview is in the Podnews Weekly Review podcast this Friday. Listen "wherever you get your podcasts".
I wonder what he'd make of Alfred in the UK? David Lloyd has written plenty of details about it - it's the community radio station for Shaftesbury in Dorset that I've written a fair bit about already. Irritatingly, Ofcom has removed Alfred's licence application from its website, which is a shame.

The latest Australian radio figures are out. I wrote about the new research methodology, Radio 360, last month. I notice that ABC Radio Brisbane has become the #1 AM station in the city by cume - which, to me, seems the right way to measure public service radio output.

Interesting to see 4BH, the golden oldies station in Brisbane, doing so well (#1 in share for 55+ adults, #5 overall). In its marketing, it has been heavily and perhaps uniquely promoting DAB+ as an available platform, alongside its poorly-performing 1116 frequency. I can't recall any other station mentioning DAB+ in this market. For the record, it has more listening in this country than online does. (And the UK, too).

An interesting video from the US explaining "why every radio station sounds the same" - a quick canter through the ownership law changes of the Reagan era; and then how TikTok is setting the playlists. Important caveats near the end, too. A lot of "You turn me on like a light switch".

Meanwhile, in Sydney, and most certainly not with the same production work as the YouTube video above, two men wearing anoraks actually have a light switch, and wonder whether ABC Radio Sydney's AM transmitter can turn it on.

The good folk at Futuri Media are now pointing their AI guns on the people who make the commercials, with a new product called SpotOn. Daniel Anstandig is quoted in the article talking about using it for 'spec spots' to get a client interested, and for that it makes sense.

On Twitter - remember that? - Denis Florent, radio consultant to the stars, posts a video of NRJ doing something or other. Forget the view out of the window of the Eiffel Tower; the view in the studio is the biggest, most ridiculously over-engineered music radio studio you have ever seen. Unless you know different.

Also on Twitter, assuming you can still see anything on it, for some reason Kiss FM UK's Tatum McGreal decides that at a Pink concert she'll "jock up the intro"/"hit the post". She gets additional marks for the "favourite biscuit" reference.

While we're on the subject: 4BC has a new temporary afternoon host - the disgraced plagiarist and former Murdoch journalist Peter Gleeson. Imagine my joy to be listening in, thirty minutes into day two, to hear this important phone-in topic.

Two pieces about biscuit news, so how's about the subtitle of this piece in T3 to complete the trilogy of lazy radio tropes?
Want to supercharge your radio show? Here's a £1 week-long trial of Show Prep - from a world class radio consultant and the best show-prep writer in the UK. Great for UK stations, or for English-language stations everywhere, too. (ad)
Supporters
Thank you to Broadcast Radio for becoming my latest supporter! The company writes…
We've known James for far too many years, but we've been avid fans all the way. Here's to hearing him talk more about the industry we love. And a mutual disdain for lazy buggles headlines…😄
Quite right. Thank you! The company makes the popular playout system Myriad (also in the cloud), as well as tools and software for all kinds of things in radio. Super kind of you, thank you!
Thank you, too, to Clyde Broadcast Richard Hilton and James Masterton, Brun Audio Consulting, Soma FM and Media Realm's radio websites.
If you'd like to support my work in any way, you can BuyMeACoffee - become a member to give regularly or just give a one-off coffee, or five. Here's where to do that.
Please do follow me on Mastodon, too: I'm @james@bne.social there.
My professional website has more detail about who I am, and what I do, and whether I can help you further.