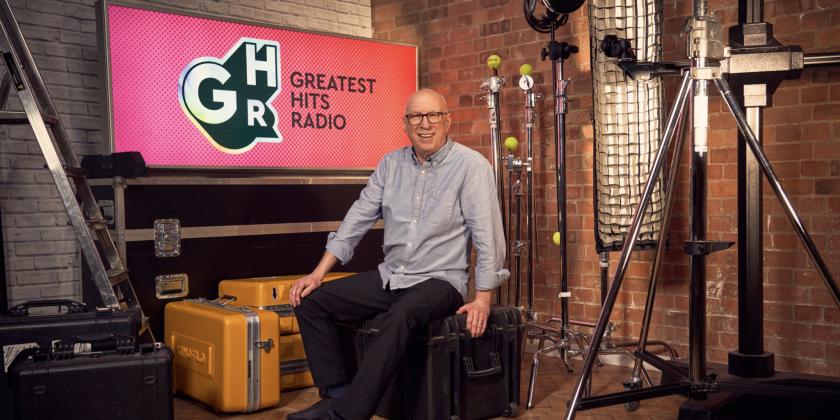 Ken Bruce, and live radio goes LIT
· 6.9 minutes to read
Much virtual ink has been spilt with the shock news that Ken Bruce is leaving BBC Radio 2 and will pop up on Bauer's Greatest Hits Radio in April. (And excellent it is, too, to see a radio presenter's career being the stuff of news headlines).
For background - Ken Bruce, 71, presents the most listened-to radio show in Europe. He's an amiable, quick-witted Scot, and has had this slot for 37 years (except a 22 month period from March 1990, where he did lates then earlies). He earns a yearly salary of around £385,000 (US$476,000); Radio 2 has 14.4m listeners, each listening for 11.4 hours a week: a 16.1% share.
Greatest Hits Radio is a quasi-national service, occupying FM, AM and DAB signals across the UK, but carrying local news and ads, and a patchwork of regional shows. Its owner, Bauer Media Group, is the second-largest commercial radio group in the UK; it (including the heritage Scottish stations which change name to Greatest Hits Radio in April, and will take his show) reaches 4.1m people, each listening for 7.8 hours a week: a 3.2% share.
Given those figures, you might possibly ask: what's in it for Ken? Well, he presented his BBC Radio 2 show at home (Thame in Oxfordshire) from March 2020 to May 2021. A man for whom family is important, it must have been weighing on his mind that with GHR he can still present a national radio show, but avoid the almost three hour daily commute into London. I'd be surprised if his new gig isn't entirely home-driven. Rumour is that his new salary (which will be confidential, of course) will be around £500,000: but at 71, you'd think quality of life might also be as important as money.
Bauer can probably afford Ken Bruce. It's just turned off the Absolute Radio 1215AM network and others (see below), which will, I would conservatively estimate, save them at least five Ken Bruces in transmission costs a year. It also, clearly, is a tool to attract advertisers.
And what does it mean for BBC Radio 2? Ken Bruce is a great broadcaster but, and I mean this very affectionately, he's magnolia. A pleasant paint colour to put on the wall when you're selling the house: because you know that nobody will be horribly offended by it. He's someone people don't switch off; not necessarily someone people would rush to switch on. That's a skill by itself, and like Mark Goodier, who he presumably is replacing, he's a good, tight, competent broadcaster, and he will have a number of loyal listeners. Experience has been (with Simon Mayo, who is also on Greatest Hits Radio, and with Chris Evans moving back to Virgin Radio) that the Radio 2 audience is loyal to the station, rather than the presenters. So, for Radio 2, it means a talent cost saving, and a continued extension of their aim to keep the station moving younger.
(Interestingly, Ken Bruce takes with him his feature Popmaster, for which he retains the IP. As astonishing lapse for the BBC, and a mistake, presumably, they wouldn't let happen today.)
What does it mean for 65+ audiences who feel increasingly that BBC Radio has nothing relevant for them? Ah, that's a much more interesting question. The rest of daytime Radio 2 are much younger - Zoe Ball is 52; Jeremy Vine is 57; Scott Mills is 49; Sara Cox is 48. What do these people know about being 70?
In Norway in 2013, when they repositioned NRK P1 as a younger sound, they unashamedly took the older presenters and put them onto NRK P1+, a digital service. That helped NRK retain older audiences, and helped promote DAB as a new format of listening. The BBC will have no appetite, or budget, to launch a "Radio 2 +", of course; so perhaps this is where Boom Radio comes in - oddly, to fill in the public service void with a commercial service?
---
Talking about BBC Radio 2, it's been a while since we've heard Liza Tarbuck going into the news on BBC Radio 2.
So, here's another compliation, including one of the lead stories she's so professionally linking into.
Brave choice, too, playing out to Jimmy Savile's theme tune, 'S Wonderful by Ray Conniff, on Jan 7. When I had to play that, when playing out Savile's Travels on the radio, I managed to backtime it correctly.
---
Are you LIT? Live radio meets podcasting…
One for the techies, this: but something I bet you can spin up really quickly.
100% Retro - "feel young again" - is an (English-language) oldies station from the Netherlands, with some big names and a mix of oldies from the 60s to the 90s. As a station on digital platforms, yes, it's got a website and apps and all that, blah, blah, but it's also got a podcast RSS feed.
Push that RSS feed into a podcast app, though, and you'll see just one podcast: a promo for the station. But if you view the RSS feed, you'll discover that it's got a lot of entries in it, all marked as a podcast:liveItem.
If you listen to 100% Retro in a compatible podcast app, like Podverse, you'll also see a live stream. Click it, and you'll be listening to the station.
But - "subscribe" to the station, as you would a regular podcast, and on your phone you'll get notifications when your favourite show is about to start on the radio. (And a link to the stream).
So, if you produce podcasts of your shows via RSS, the podcast:liveItem tag could also notify those listeners that the show is going out right now, live on the radio. It's supported by a handful of apps at the moment, but is entirely backwards-compatible with every other RSS podcast app.
Here's the documentation if you want to dive in. It would be excellent to see stations use this.
---
Delighted to hear this top-of-hour promo on ABC Radio Sydney. I took part in an away day for the station and suggested it: pointing out how multiplatform the station was, and how it was important to tell your listeners how to tune in:
Great copywriting, too - highlighting the ABC Listen app (the station's app), and, later, "and online". Bravo: yes, technically, they're the same, but not in most people's heads they're not.
Really very excellent. Now, I'd like to suggest this is played at the top of every hour, rather than as a scheduled promo; and also suggest I hear something similar on ABC Radio Brisbane (who could certainly do with it), but let's take one step at a time.
Also, and possibly not entirely coincidental, congratulations to my friend Steve Ahern, who has assumed the rule of Manager, ABC Radio Sydney. It's no exaggeration to say that this is the job he was made to do. He's been acting in the role since October.
---
Want to supercharge your radio show? Here's a £1 week-long trial of Show Prep - from a world class radio consultant and the best show-prep writer in the UK. Great for UK stations, or for English-language stations everywhere, too. (ad)
Supporters
Goodness, lots of people have bought me a coffee. Gavin Watson ("Always a pleasure to read your newsletter James."), Edward Marcus (3 - "As an American living in the UK, I appreciate your perspective on the industry and markets for radio. Keep it up as long as there's something to listen to!"), Timby ("For reminding me of the lobsterphone"), Someone (5 - "Hi James I look out for your newsletter. Your output is prodigious which makes me think you don't sleep … so you need coffee.") and Someone (5 - "Just hello from the Belgian radio industy where you have already given a speech.").
Thank you, too, to Richard Hilton, James Masterton, and Brun Audio Consulting for your ongoing support of this newsletter. I'm very grateful to you.
If you'd like to support my work in any way, you can BuyMeACoffee - become a member to give regularly or just give a one-off coffee, or five. Here's where to do that.
My professional website has more detail about who I am, and what I do, and whether I can help you further.