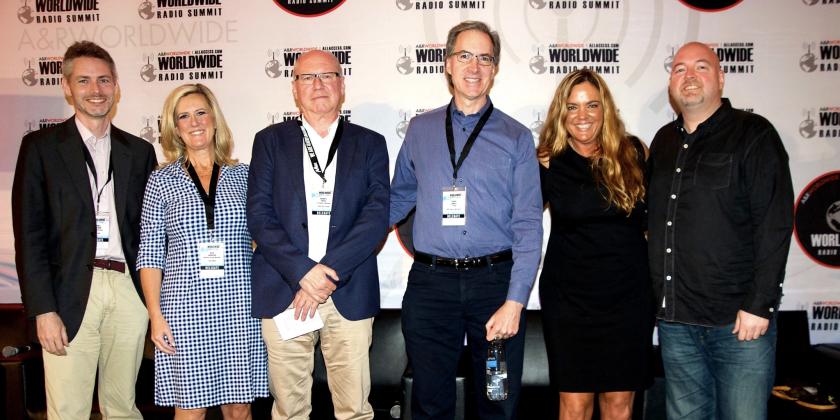 Farewell All Access; congrats Kyle and Jackie O
· 6.2 minutes to read
Above: the "Radio futurecast" panel at the Worldwide Radio Summit in 2017. Left to right: me, Kim Johnson (Futuri Media), Anders Held (Radiodays Europe), Steve Jones (ABC Radio), Lori Lewis (Cumulus/Westwood One), and Mark Pennington (WRIF Detroit). Pic: KC Morse
I tell people it was in a pub close to 2017's Worldwide Radio Summit, the annual conference run by Joel Denver's All Access, that the idea of Podnews came about.
That's almost true; it was at a restaurant, rather than a pub, but a pub fits my personal brand better (and I did go to the pub with Kurt Hanson later). I was chatting with Steve Goldstein, the generous and intelligent founder of Amplifi Media, about where to get news about podcasting. In a conversation that probably only lasted a few minutes, he asked me if I knew anywhere. I didn't, but the conversation - where Steve described the sort of thing he was looking for - got me thinking. Just three weeks after returning home, I launched on May 30, 2017.
It was the type of conversation that came out of WWRS and of being a writer for All Access, which I was for over five years: writing articles (some quite carefully researched, some not so) for Joel Denver, who responded to every post with "THANK YOU!!!" in capitals.
It's disappointing, therefore, to see that All Access will close next month. It seems to be predicated by changes in the music industry, rather than radio: but it's sad to see it go. I'll miss Perry Michael Simon's often gloriously snarky "letter", and Joel's positive attitude to everything (even while his home was burnt down in a wildfire, I seem to remember).
My time with All Access was responsible for breathing new life into my career. I'll miss it. Thank you, Joel.
---
I've spent some time appearing on the ABC over the last couple of weeks, as Australia wakes up to the possibility that AM might not be in car radio receivers for long.
First was an appearance on ABC Radio National - Lazy Buggles Headline ahoy! - focusing on the demise of AM across the world (Radio National is mostly carried on AM in the capital cities). Then, an appearance two hours later on ABC Local Radio for New South Wales (in the last hour somewhere), where I was played in with Video Killed The Radio Star (thank you Anna).
Both enjoyable and sensible discussions and debate about the future of AM radio; on Radio National, I called for the government's media regulator to require ABC Local Radio to additionally be available on FM in the capital cities, with the argument that an emergency broadcaster is only any good if people own the receivers to pick the emergency station up. For many, the only AM radio we own is in the car.
In both cases, I suggested that AM in the capital cities is a liability for broadcasters; it reacts badly to LED lighting, to high power lines, even to close-at-hand internet connections, and is inaudible in concrete buildings. However, AM is vital in regional Australia, where DAB+ is unavailable, and FM radio doesn't reach as far as a good AM signal does. It's a tale of two countries; and it's a concern that Australia mostly gets its in-car radio receivers from European car models where AM is being progressively switched off.
A week later, an appearance on ABC Radio Adelaide (one hour in): a half-hour featuring three old AM radio personality mates (two guests, one guest in the studio) chummily reminiscing and/or auditioning for their next gig; I was described in the introduction as "the enemy" for having something to do with podcasts, and my title of "radio futurologist" also got comment. After all that, I'm not sure that 62 year-old David Bevan, the announcer, was expecting me to respond to a first question of "how d'you get to call yourself a radio futurologist, then?" by my responding "I print my own business cards, you can call yourself anything on those." ;)
---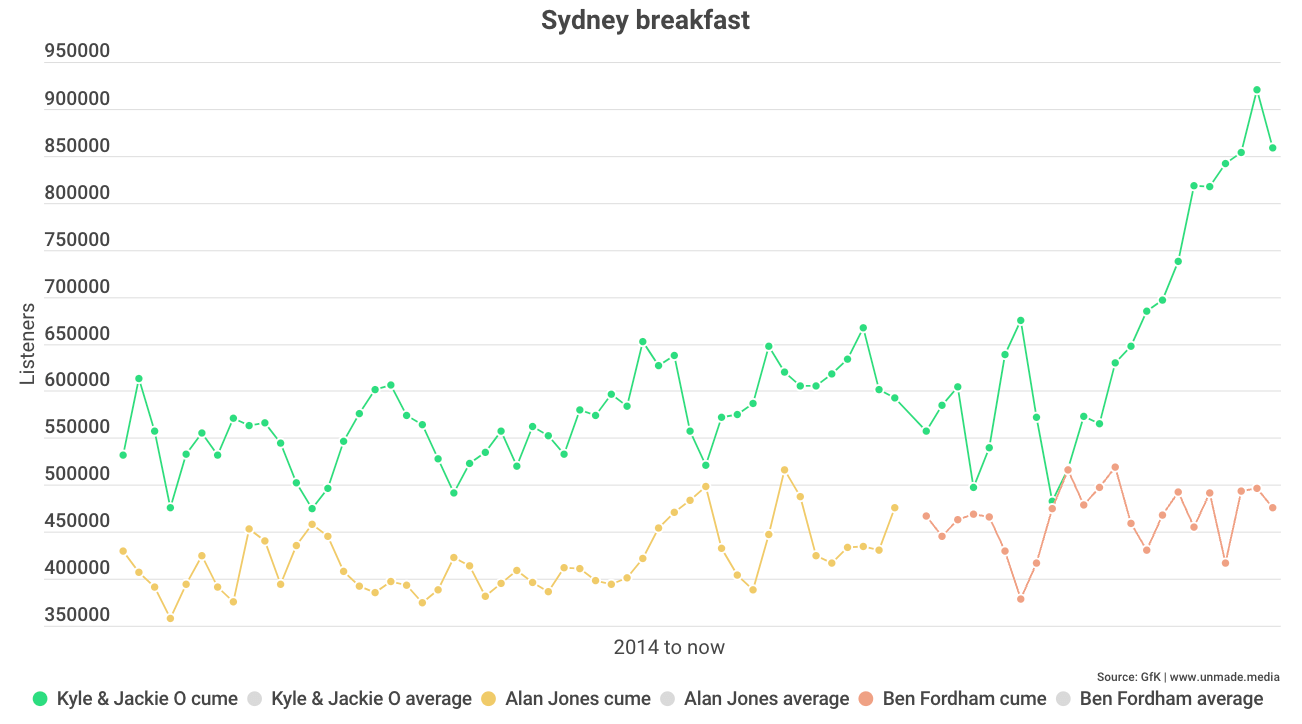 Want to supercharge your radio show? Here's a £1 week-long trial of Show Prep - from a world class radio consultant and the best show-prep writer in the UK. Great for UK stations, or for English-language stations everywhere, too. (ad)
Supporters
Thank you to David Webb for a coffee: he says "Always enjoy your informative emails. I am a voluntary presenter at 1WAY FM and DAB+ Canberra's Christian Community radio Station". ("Presenter"? Are you turning British?)
Also, thank you to Steven Centofanti for the coffee, who says "James Cridland is the cutting edge word on radio. Maybe he'll help me plug my voiceovers." Maybe I will; he's a great freelance voiceover artist based in Queensland's Sunshine Coast. I especially like his big list of radio tech links.
Thank you, too, to Broadcast Radio, Clyde Broadcast. Richard Hilton and James Masterton, Brun Audio Consulting, Soma FM and Media Realm's radio websites.
If you'd like to support my work in any way, you can BuyMeACoffee - become a member to give regularly or just give a one-off coffee, or five. Here's where to do that.
Please do follow me on Mastodon, too: I'm @james@crid.land there (search for it and you'll find my current home on a Brisbane site).
My professional website has more detail about who I am, and what I do, and whether I can help you further; and you can hear this newsletter being read to you on a podcast player near you - just search for James Cridland - radio futurologist.