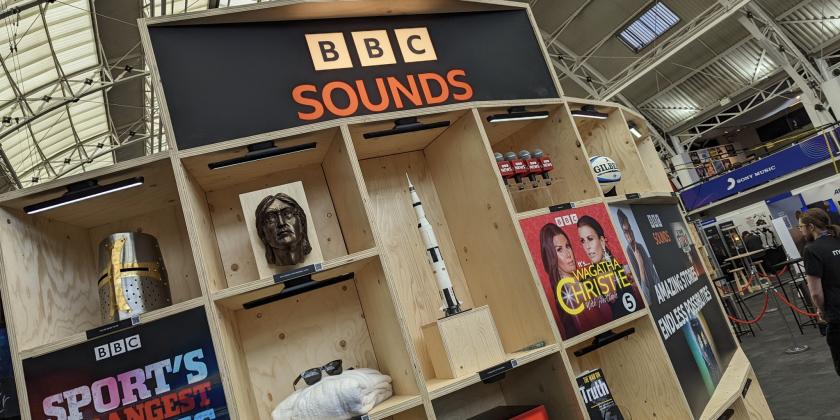 BBC Sounds sees no growth; but ABC sees 22% increase
· 5.2 minutes to read
BBC Sounds, the corporation's app for radio, music and podcasts, has posted a weekly average of 4.3m users, unchanged from the previous quarter.
The BBC posted 178m plays of "on-demand radio and podcasts" in the quarter, also flat; 392m plays of audio overall, also flat; and an additional 256m podcast downloads on third party platforms, a decline of 3.1% quarter-on-quarter.
I see a lot of podcast and on-demand data from across the world. Not one is showing flat figures, or even declines, apart from the BBC. As I wondered in July - what's going on?
BBC Sounds did, however, achieve a record audience of 4.53m people using it in the week following the UK government's now-retracted 'mini-budget', which coincided with a set of interviews on BBC Local Radio. Given that they were the only interviews Liz Truss had really done that week, it does show the benefit of excellent content (promoted on all the news outlets) - at least, it shows that an extra 200,000 people might try the service if that happens. But did they stick around? We'll find out next quarter.
By contrast, in Australia, the ABC's Annual Report was published. The national broadcaster is seeing 33m downloads per month for its podcasts (p64), up 22% year-on-year. News shows got the highest increase (50% year-on-year); the ABC News Daily achieved 46% higher downloads than its predecessor, The Signal (though I wonder how much of that is down to the simple work of calling a daily news podcast a name that you'd expect a daily news podcast to be called). Conversations remains #1, with an 8% drop.
The ABC aren't in the Australian Podcast Ranker, leaving ARN's iHeartPodcast Network Australia to claim the #1 spot. They got just 18m downloads in Sep 2022, about half as much as the ABC. It remains a bit baffling why the ABC aren't in a ranker that they said, at launch, they'd join "in a few months".
---
Is your public broadcaster on your coins? Here's the ABC's commemorative coin - it turns 90 years old this year. And here is the BBC's 100 year-old commemorative coin. It's interesting to compare them - the ABC's is covered with logos and images from some of the corporation's output: a lot of kids' shows, entertainment shows like Countdown (a music show), and news brands like 4 Corners and Foreign Correspondent. The BBC's is a picture of the world, ostensibly a redrawing of the BBC News opening graphics, and no recognisable logo.

BBC Radio 4 invited Miriam Margolyes as a live guest on BBC Radio 4's Today programme, where she swore like a trooper. As Krishnan Guru-Murthy tweeted, "you only book Miriam Margolyes to be live on air if you are either hoping she says something outrageous, or are a new producer who has never seen her on anything before." An amusing quip, though it wasn't long before he, himself, was suspended from his work on Channel 4 after calling Steve Baker the c-word.

Talking about Channel 4, their tweeting game is good, congratulating the BBC for its 100th birthday.

A lovely piece from Steve Pratt, who warns us not to define ourselves by platform, but instead define ourselves by content.

In Thailand, the Prime Minister recommended people to listen to the radio for emergency information about flooding. It was used by the opposition as a way to point out how out of touch the PM was; but 86% of Thais listen to the radio (85.9% to FM, 11.2% to AM), the government said.

Lord Alton writes for The House on the BBC World Service cuts. The UK government were approached, he says, and "were aware of the consequences", but went ahead anyway. Eurgh.

Radio Garden doesn't work in the UK any more: like TuneIn, all access to non-UK stations have been blocked. The block is because of a court ruling that suggested that TuneIn had to pay music licensing costs, since it was earning money out of streaming overseas stations.

Dan Taylor-Watt writes whether the recent BBC presenter departures are "a worrying exodus or a healthy refresh". The former BBC exec writes that "the majority of departing BBC presenters could have been earning more in the commercial sector" - which is something I'd like to challenge. I've never seen any evidence that the money's better in commercial radio. Would love to know different.

Americans spend more time with audio on mobile devices than radio receivers, says Edison Research.

Jon Holmes highlights a splendid email from the BBC.

One of my first jobs was playing out The Superstation, so it was nice to hear these again. Instead of taking a "Viking Hallam and Pennine" sustaining service from Hull and closing the station, Pennine Radio took The Superstation instead - on only one transmitter initially - and paid for someone to play the ads in. No idea how that worked financially!
Unprofessional bullshit corner
Would anyone like to hear how BBC Radio 2's Liza Tarbuck introduces her news bulletins? I've prepared a month's megamix for you. Distortion as broadcast. You're welcome.
And, KIIS106.5's Kyle and Jackie O run through a 30-second dumping system on their Sydney radio station because they can't be trusted. From the sounds of this, the station can either bleep them or replace the audio completely. Both stars, who earn AUD$5m per year (US$3.15m, £2.78m) had a big fit and decided to walk out - from the audio on this page, it sounds as if Kyle was actually broadcasting from home anyway.
Lazy Buggles Headline Corner
Supporters
Thank you to Richard Hilton, James Masterton, and Brun Audio Consulting for your ongoing support of this newsletter. I'm very grateful to you.
If you'd like to support my work in any way, you can BuyMeACoffee - become a member to give regularly or just give a one-off coffee, or five. Here's where to do that.
My professional website has more detail about who I am, and what I do, and whether I can help you further.