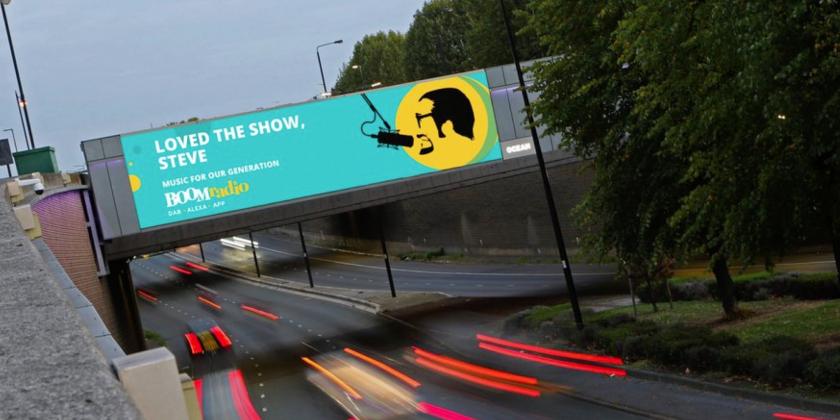 The BBC dismantles Steve Wright, the World Service, and the Prime Minister
· 4.4 minutes to read
Above: a classy, clever ad from commercial rival Boom Radio on the day of the last Steve Wright show
I never listened much to Steve Wright In The Afternoon when he was on Radio 1. The show coincided with afternoon classes (if you went to a fancy boarding school). But when I did occasionally dip into it, it was full of characters, fun and excitement.
Ahead of his final show later today, Geoff Jein has shared some of the secrets of the show that he worked on for a while.
Steve Wright was the stuff of legends: and when the beers flowed and someone from Radio 2 was present, inevitably the stories would flow. Not all of those stories were positive, it should be acknowledged; but "Steve Wright" was a shared piece of all of our childhood and, for many of us, one of the reasons that we got into radio in the first place.
The magic, for me, was on Radio 1, on a crackly, pre-FM signal with David Bowie asking Steve what the time was (and, of course, what the temperature was). It probably was time, Steve, sorry.
But even so, his last weekday show today feels like another chapter closing; another piece of unwelcome change; and the onset of a bit of melancholy.
That's the power of radio.
---
Steve Wright isn't the only bit of the BBC that is disappearing.
Today, we learn that more than 380 jobs are to go from the BBC World Service.
There will be no more language services in Arabic, Hindi or Chinese. Many other language services will go online-only.
The last time I heard the BBC World Service was as a news bulletin on Fabulous 103, a radio station in Thailand. But that, too, appears to be going away. "The BBC will also shift its focus away from providing news bulletins to overseas broadcasters and instead try to convince audiences to use the BBC's own outlets and website."
In 2010, the awful, shortsighted, mendacious Conservative government forced the weak Director General Mark Thompson into accepting no more government funding for the BBC World Service. It needed to be funded from the UK licence fee instead. That started in 2014.
It, too, was better in the old days - a carefully, sensitively produced network-wide sound of station in 2007, written by David Lowe made the station sound both cohesive but diverse - something many stations could benefit from today. The Mcasso 2018 remix, with the bland tagline "the world's radio station", has never really grabbed me.
The BBC World Service is available in Australia, 24 hours a day, 50 weeks of the year (yes, I know) on DAB+ via SBS Radio 3. It's also available in great swathes over the weekend on ABC News Radio. I listen to it a fair amount.
It is still a fine-sounding radio station: one that is still a source of pride as a British citizen, and one that has incredible reach and power. The UK government appear to be dismantling the very best bits of the country.
---
What makes this senseless gutting of the BBC World Service more galling is that it happens at the same week as this rather excellent promo for BBC News appears.
---
It's a tradition for the UK Prime Minister to do a set of interviews on BBC Local Radio (or Local BBC Radio or whatever the marketing wonks want me to call it) just before the party conference.

Liz Truss, the (checks watch) current UK Prime Minister probably discovered to her slight dismay that she'd be quizzed by radio stations across the UK.

Some media commentators, like Paul Mason, posted unbelievably patronising bullshit suggesting that these "sleep-deprived, non-expert presenters will throw her soft questions". The opposite, of course, happened.

Truss (called just plain "Liz" by a number of the interviewers) got a set of very difficult questions indeed. BBC Radio Leeds's first question from Rima Ahmed, in a broad Leeds accent: "Where've you been?" (It's her first month in the job).

Australian Prime Ministers seem a little more available for radio appearances, with them appearing as guests on wacky breakfast shows and being asked about the toilets in Parliament House, before posing for unflattering photos. But it's not the sort of thing that UK Prime Ministers have really gone in for.

Perhaps that won't change soon.
---
Want to supercharge your radio show? Here's a £1 week-long trial of Show Prep - from a world class radio consultant and the best show-prep writer in the UK. Great for UK stations, or for English-language stations everywhere, too. (ad)
Supporters
Thank you to Richard Hilton, James Masterton, and Brun Audio Consulting for your ongoing support of this newsletter. I'm very grateful to you.
If you'd like to support my work in any way, you can BuyMeACoffee - become a member to give regularly or just give a one-off coffee, or five. Here's where to do that.
My professional website has more detail about who I am, and what I do, and whether I can help you further.