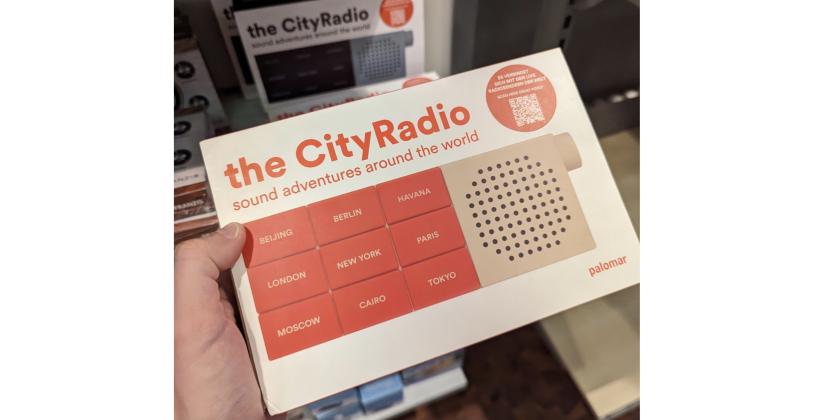 AM Radio's US defenders
· 5.2 minutes to read
While in the German Museum of Technology in Berlin (apparently, Germans invented everything), I saw one of the above - a "CityRadio". It looked an interesting device: but it isn't what it seems: it's a bluetooth speaker, and you need your mobile phone somewhere close by. For €99, surprised how little you get for your money.
AM radio - turned off in many parts of Europe already - seems to be having a last-ditch effort in the US to keep it relevant somehow, as car manufacturers pull it out of their new vehicles.
GM has decided to go one further and will remove access to Apple CarPlay from their vehicles for some reason (CAUTION: LAZY BUGGLES HEADLINE).
Anyway, in a country where more than 50% of radio listening happens in a car (the figure for much of Europe is about 20%), radio feels threatened. Cumulus finds "82 million reasons to keep AM radio in vehicles". Much of the data actually relates to AM/FM radio, but it's a spirited defence.
The owner of WABC Radio (an AM station) in New York, John Catsimatidis, is "leading a campaign to Save AM Radio", says a press release.
Naturally, it's now being politicised, as seems to be the way in the US - it's a government conspiracy, apparently. Catsimatidis is offering a "Save AM Radio" spot voiced by… Mike Pence. Because there's nothing that we need to do more than make this a red vs blue debate.
As Bloomberg correspondent Liam Denning suggests, though, more than two-thirds of AM radio listeners in the US are older than 55; and the total AM radio reach has more than halved in the past twenty years.
Fred Jacobs, too, is realistic about AM's future, pointing out that in the Techsurvey - which is made up of core radio listeners - fewer than a third of new car purchasers believe an AM radio is essential in the dashboard. He also writes more information for Hypebot - a great piece with data from Xperi, a company that collects in-car radio data.
The main argument appears to be "BUT EMERGENCIES". FM radio also works in emergencies, of course, as do mobile phones (which have a priority setting to enable important users like police and fire crews to get access even if the cellsite is otherwise swamped). An AM radio is only going to work in an emergency if a) you have one, b) you know the frequency to tune to, c) the transmission tower is unaffected, and d) a station actually broadcasts emergency information and not just automated satellite-fed stuff from hundreds of kilometres away. FM stations broadcast just as much emergency information as AMs. I'm not sure the argument has legs.
That said, Edison Research shared this heartening research about in-car listening overall, ending with this comment: "For radio listeners of all ages, the best thing for radio is an in-car interface that makes both broadcast and digital audio easily accessible." Yes to that.
The interface is the important thing (and possibly one of many reasons why AM radio is failing so hard - it's a dumb, poor-sounding experience that is hard to present on the same screen as RDS-FM, DAB or satellite radio).
Meanwhile, if your flagship services are on AM, what's your strategy?
---
Impressive compliation of "top of hour" sequences from BBC Radio Manchester, from a few years ago. A throw-ahead to a show later in the day/week, followed by what you'll hear in the next half hour; then a clear station ident with a clear list of platforms; the pips; news headlines; sports headline; weather headline; travel headline; then a station ident. Very impressive. HELLLOOOO ABC LOCAL RADIO, who don't even reliably ident the station at the top of the hour.

For all that's impressive about the clip above, there's plenty that's unimpressive about BBC Local Radio; and puzzling how it's so unimportant BBC Radio 5 Live doesn't even give it an opt-point in the morning.

Another radio tech company jumps headlong into AI-powered DJs. Meanwhile, in the UAE, 102.4 Mirchi has apparently "introduced the world's first AI presenter on a commercial radio station" (CAUTION: LAZY BUGGLES HEADLINE)

Some fascinating data. Listeners to reheated radio shows on podcast platforms are older, less well educated, and 67% male. 'Native podcasts' do much better.

Last Monday morning, captive in an Uber, I was listening to triplej and "Bryce and Dee", who are doing breakfast. During the 7.05am presenter break, whichever of the duo is a bloke said "shit" three times. "Shit!" as an exclamation, "That's real shit" as an expression of approval, and "a bit shit" as a description. The song the station started playing after this presenter break contained the chorus "we're always doing the same shit". I'm clearly getting old, but, shit, that shit sounded a bit shit.
Biscuit news
Don't have any calls? Desperate for a fun phone-in topic? Try biscuits.
Also: "what candy did you have when you were a child?", or if you're triplej, "why doesn't dog shit turn white any more?"
Want to supercharge your radio show? Here's a £1 week-long trial of Show Prep - from a world class radio consultant and the best show-prep writer in the UK. Great for UK stations, or for English-language stations everywhere, too. (ad)
Supporters
Thank you to Richard Hilton and James Masterton, as well as Brun Audio Consulting, Soma FM and Media Realm's radio websites for your ongoing support of this newsletter.
If you'd like to support my work in any way, you can BuyMeACoffee - become a member to give regularly (this now works) or just give a one-off coffee, or five. Here's where to do that.
I'm at the New Zealand Podcast Summit in mid May; the Podcast Show 2023 in London at the end of May; and Radiodays North America in Toronto in early June. Here are my contact details if you're there, too.
I'm on Mastodon as @james@bne.social (or just search for my regular james@crid.land email address).
My professional website has more detail about who I am, and what I do, and whether I can help you further.