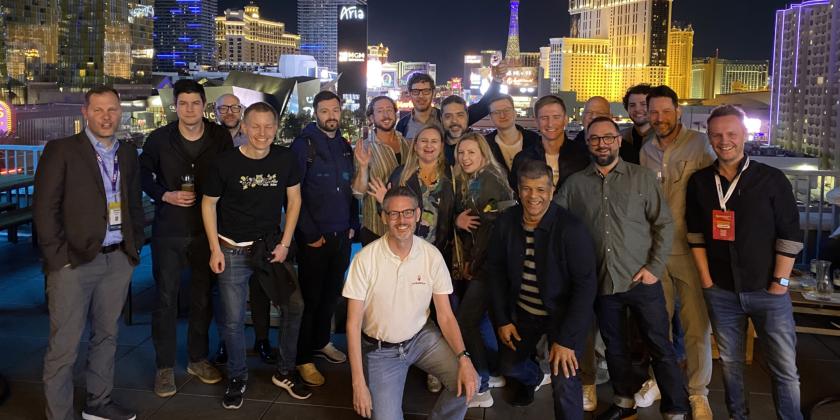 AM radio to disappear from more cars
· 3.2 minutes to read
Above: I was able to meet listeners to the Podnews Weekly Review, a podcast I do, in Las Vegas this week. So that was nice.
The NAB Show in Las Vegas will have more than 1,000 exhibitors, they say. That number is up 20% y/y, but the show had 1,600 in 2019, so there's still some way to go. (I'll be there!).
I've been talked into running two events in the UK. Podnews Live - North, Jun 13 in Salford, and Podnews Live - London, Sep 27 in, er, London are already available for tickets at a very low early-bird price. The idea is an event built for networking, and for sharing knowledge in the business of podcasting. It's still a difficult time for events, but I hope that we can make for a good event.
Later this month, I'm at Radiodays Europe in Prague, where I'm speaking at both the Podcast Summit and the Audiodata Summit on the Sunday, and then in the event on the Tuesday.
Want to supercharge your radio show? Here's a £1 week-long trial of Show Prep - from a world class radio consultant and the best show-prep writer in the UK. Great for UK stations, or for English-language stations everywhere, too. (ad)
Supporters
Thank you to Richard Hilton, James Masterton, and Brun Audio Consulting for your ongoing support of this newsletter. I'm very grateful to you.
If you'd like to support my work in any way, you can BuyMeACoffee - become a member to give regularly or just give a one-off coffee, or five. Here's where to do that.
I'm at Radiodays Europe in Prague Mar 25-30; the NAB Show in mid-April; Spotify's event in Berlin in mid-April too; the New Zealand Podcast Summit in mid May; the Podcast Show 2023 in London at the end of May; and Radiodays North America in early June. Here are my contact details if you're there, too.
I'm on Mastodon as @james@bne.social (or just search for my regular james@crid.land email address).
My professional website has more detail about who I am, and what I do, and whether I can help you further.