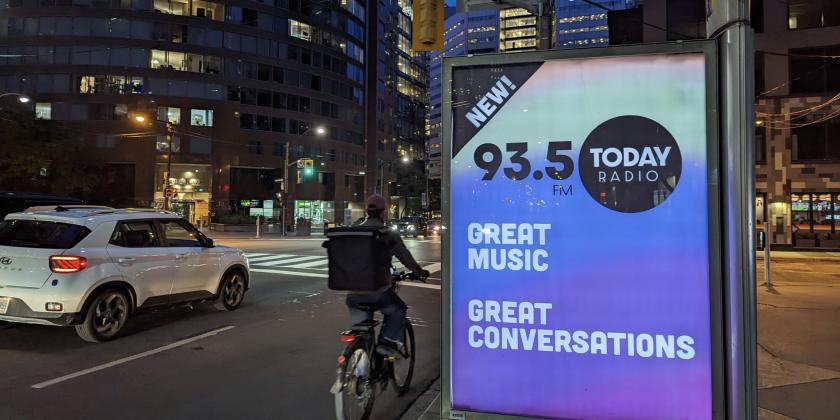 AI and radio
· 4.3 minutes to read
Above: seen in Toronto. Today Radio is owned by Stingray, and is an adult-hits format station. I have a dream of doing a session at a radio conference where advertising professionals look at ads from radio stations and work out if anyone would take any notice of them - I would say that at least it's not just promoting the music mix, but I wonder whether this would work better if it was able to change in terms of the topics they're discussing on the station. The website appears to be a collection of their social posts; the station is based on Now! Radio, which has worked excellently in other markets in Canada.
AI and you
A few weeks ago I was at Radiodays North America in Toronto, Canada, and the first keynote of the event was Daniel Anstandig from Futuri, talking about RadioGPT. He quoted a bit from my review earlier in the year, which was fun.
The excellent Fred Jacobs (who was also there, but I didn't see him) has written about "AI Ashley", an AI-generated radio DJ using RadioGPT, in Portland.
It's certainly the talk of the industry. One delegate at Radiodays North America was incensed that a senior Rogers exec could stand up and claim that people were the important thing for the future of radio, but also stand up and say that he was looking at using RadioGPT as well. This is, apparently, a bad thing.
I'm not so sure it is.
Any technology can be used for good and for bad. Just ask anyone who's used Twitter.
When I started in radio, all the talk was how music was beginning to be scheduled by computer, and how this was a bad thing. Then, we moved from DJs playing audio from carts and vinyl and CDs, to just hitting the 'next' button on a playout system. This is just the next step in the evolution of how radio is produced.
RadioGPT could be used to replace DJs on music intensive radio stations. But you probably don't want to do that. That's unlikely to be a good long-term plan.
What's likely to be a better long-term plan is to consider using AI to add to the output of your station.
If it were me in charge (and it isn't, thankfully), I'd be replacing hours which have non-stop music, and injecting some form of AI output in those hours. Radio's USP is that it offers more than Spotify on shuffle; but if you're just running an hour-long music sweep, you're offering nothing that Spotify can't do better: which is where AI comes in, you'd think.
But let's also consider the other bits of radio's output. Tightly formatted output like travel news or weather? That seems ideal to be handled by AI to me. Maybe you're a bloke doing an afternoon show: could you get a female AI voice to do the travel every half hour? Would that make the sound of the station a little less blokey?
I'm occasionally using AI to save me time: relatively often, I'm typing into Google's Bard the prompt: "Please summarise the following text in a paragraph containing three sentences" and then copy/pasting a big wordy press release into. Is that the sort of thing that could help a busy team somewhere?
Can it be used to better schedule music (can it understand categorisations and help data entry)?
I had the same knee-jerk reaction against AI "taking all our jobs". But the more I think about it, the more these tools can be used to help.
The idea of using artificial stuff to fill non-peak hours isn't new, of course; I believe that County Sound group's Eagle FM had "Talon", a robotic presenter, doing overnights for some years in the 1990s. Perhaps it's here that AI can help a little.
Elsewhere
Want to supercharge your radio show? Here's a £1 week-long trial of Show Prep - from a world class radio consultant and the best show-prep writer in the UK. Great for UK stations, or for English-language stations everywhere, too. (ad)
Supporters
Thank you to Clyde Broadcast Richard Hilton and James Masterton, Brun Audio Consulting, Soma FM and Media Realm's radio websites.
If you'd like to support my work in any way, you can BuyMeACoffee - become a member to give regularly or just give a one-off coffee, or five. Here's where to do that.
Please do follow me on Mastodon, too: I'm @james@crid.land there. And on Nostr, but I doubt you'll be there.
My professional website has more detail about who I am, and what I do, and whether I can help you further.